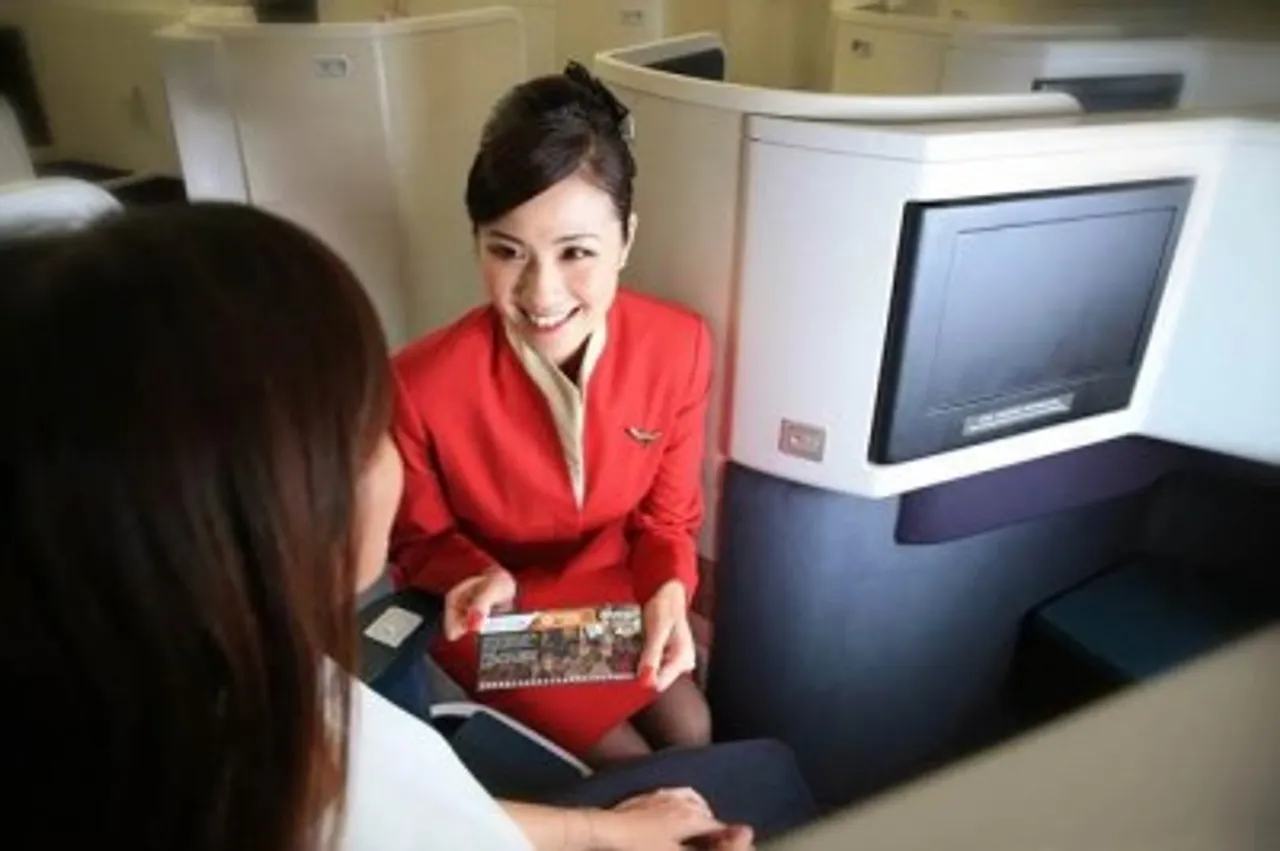 Cathay Pacific Airways and the Hong Kong Committee for UNICEF (UNICEF HK) celebrated the 25th anniversary of the Change for Good inflight fundraising programme. Since the programme was launched in 1991, more than HK$165 million has been raised to support UNICEF's life-saving programmes in over 150 developing countries worldwide. Several new initiatives were also unveiled to help transform the lives of the world's most vulnerable children to an even greater extent.
Following a remarkable and highly successful collaboration, Cathay Pacific and UNICEF HK are giving the inflight fundraising programme a face-lift and expanding Cathay's contributions to a series of UNICEF's innovative education projects. Cathay Pacific revealed a new plan to support the UNICEF's Schools for Asia initiative by contributing 30 per cent of the programme's annual donation to two of the Schools for Asia countries, China and India, in 2016.
Cathay Pacific Director Corporate Affairs Arnold Cheng said: "Cathay Pacific has been focusing its community efforts on education, as we believe quality education is essential for child development, and it has a positive long-term impact for future generations and the society at large.  Therefore, we are especially excited about the new initiative to support those marginalized children who are deprived of a basic education."
Worldwide, 61 million children of primary school age are not enrolled in schools – around one-third of who are Asian. To address the issue, UNICEF launched the Schools for Asia initiative in 2012, aiming to provide a better education for the most marginalized children in the 11 Asian countries it has identified as being most in need of increased funding and support. The programme focuses on four programmatic areas: early childhood development, quality learning, equity, and education in emergencies, in order to provide young children with trained teachers and a child-friendly learning environment that is safe, protective, gender-sensitive and inclusive.
Jane Lau, UNICEF HK Chief Executive of UNICEF HK said: "Millions of deprived children in developing countries have benefitted from the donations raised through Change for Good. The success of the programme is a great achievement for Cathay Pacific and for UNICEF HK. To further enhance the awareness of how these spare currency donations have helped improve the lives of children around the world, Cathay Pacific and UNICEF HK today launched 25 new donation envelope designs, with each design depicting a country starting with a letter from 'A' to 'Z'. Each of the 25 new envelopes will feature a short story about the country and how Change for Good brings hope to children's lives."
Arnold Cheng added: "I sincerely hope that the new envelopes will be welcomed by both our passionate passengers and our committed staff alike, and that they will continue to support UNICEF in raising vital funds for deprived children globally. I would also like to take this opportunity to thank our passengers who have been so generous to the Change for Good programme over the last 25 years, and to our staff for their support throughout this time."
About Change for Good Cathay Pacific and UNICEF HK have been running the Change for Good inflight fundraising programme since 1991. Travellers on Cathay Pacific flights are encouraged to donate any spare change they have – in any currency – to UNICEF when returning from their journeys. The money collected is used to fund UNICEF's programmes helping deprived women and children in more than 150 developing countries around the world.