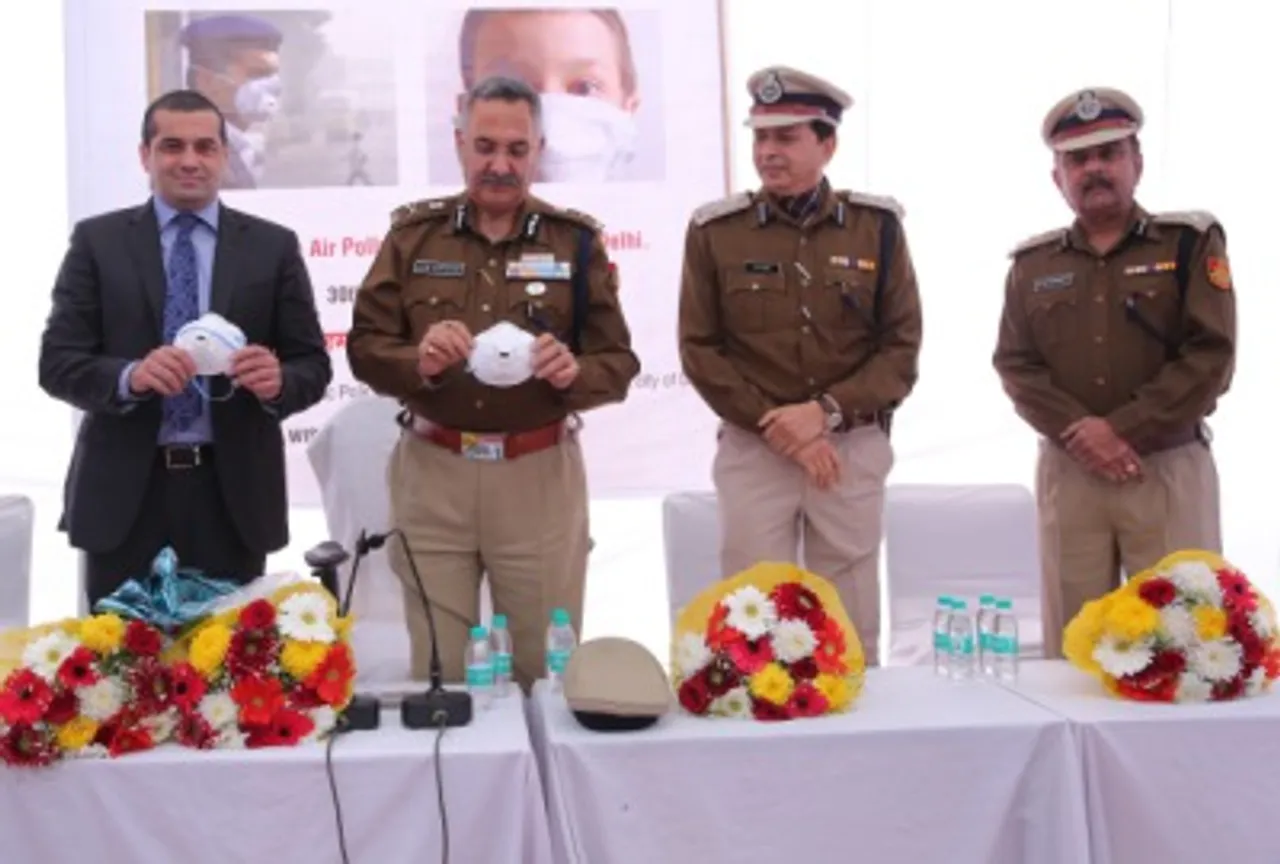 New Delhi (December 30, 2016): Capital First Ltd. has taken the initiative of raising awareness about air pollution in Delhi, and also to provide means for protection to those that are most vulnerable to the ill effects of air pollution namely; school children and traffic policemen. The volunteers from Capital First have approached government schools and the traffic police for distributing N 95 quality air pollution masks.
The national capital is facing the worst smog in 17 years, according to the Centre for Science and Environment (CSE). The AQI index in Delhi hovered in the range of 376-450 on normal days, whereas the prescribed norms for any city are 50-100 units. Thus, on any given day, the air is 4-5 times more toxic than the prescribed limits.
To support this drive, Delhi Traffic Police joined hands with Capital First Ltd., and have organised a special function to distribute pollution mask to Delhi traffic police officials; by Ajay Kashyap, Special Commissioner of Police at the Traffic Police Headquarters, Todapur on 30th December 2016.
Also present at the function were A.K. Ojha, Joint Commissioner of Police:Traffic & B.K. Singh, Additional Commissioner of Police:Traffic, along with senior officials from Capital First. With the aim to educate users about the ill-effects of air pollution, the masks were distributed with a small leaflet in Hindi that explained the rationale for wearing an anti-pollution mask.
Apul Nayyar, Executive Director, Capital First said; "Capital first is deeply entrenched and committed to the communities that it serves. As a responsible Corporate Citizen, we take proactive approach in raising awareness about issues facing the communities that we serve. In one of many such initiatives the company has joined hands with the local administration in Delhi to raise awareness and fight air pollution in Delhi and surrounding areas. Capital First believes in and aspires for a better and sustainable future for the communities that we serve."
Commenting on the efforts to combat pollution, Ajay Kashyap, Special Commissioner of Police: Traffic, Delhi said, "The Delhi Police is taking extraordinary steps for controlling the city's pollution levels right from penalising those flouting norms, stopping construction of project sites, restricted entry into the city and also deregistering old vehicles. In these critical times, we urge Delhi's population to understand the urgency of the hour and minimise the use of vehicles and only step out when absolutely necessary."
Welcoming the mask-donation drive by Capital First Kashyap further added, "We welcome the wonderful initiative by the Capital First Ltd. for distributing this necessary utility and urge other corporates to come forward and support the city in such measures to combat pollution."