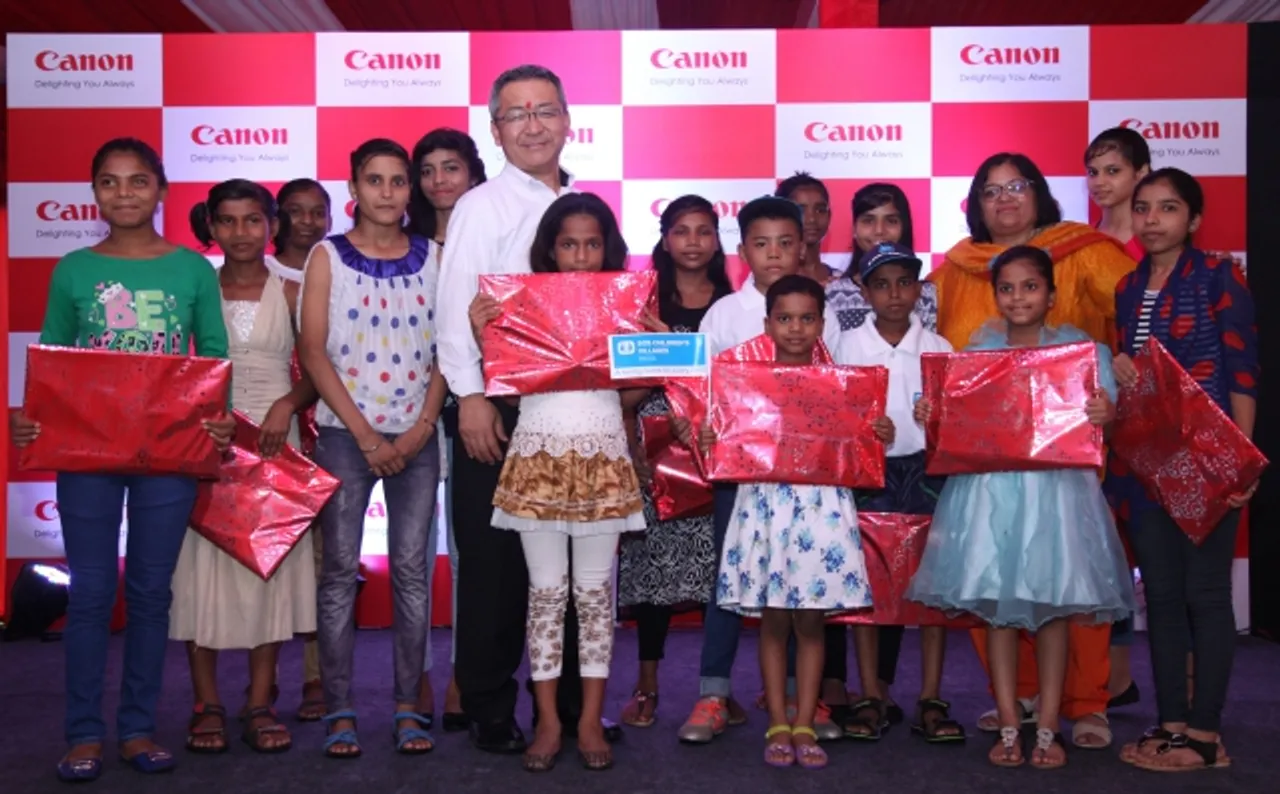 August 11, 2016: This Independence Day, as India celebrates its 70th year of Independence, Canon India is strengthening its social commitment to the country through its 'Support a Life' Campaign. Canon, with a vision to have a proliferating India has partnered with SOS Children's village across the country to support the education and overall development of children in these villages. The first phase of Canon's campaign took wings today as it celebrated the Independence Day with children at SOS village, Faridabad.
As part of 'Support a Life' initiative, Canon employees have adopted 187 children across SOS Children's Village in the country to take responsibility of their wellbeing. This initiative furthers Canon's corporate philosophy of 'Kyosei', which means 'living and working together for the common good'.  To celebrate this association, employees from Canon India Headquarters visited the SOS village to interact, play and engage with over 200 children.
Mr. Kazutada Kobayashi, President & CEO of Canon India, said, "At Canon, we are deeply involved in meaningful, welfare driven initiatives that impact lives and make people future ready. And what better way to prepare for our future than to invest in our children – the building blocks of the nation. This partnership with SOS Children's village has given the Canon family a way to express our dedication towards the upbringing of children of the country. Canon has been devoted towards the causes of education, eye care and environment and now we are proud to be expanding our social trajectory with empowerment of children and youth in the country through our most recent initiatives".
The 'Support a Life' initiative expands Canon's horizon of commitment to the country, adding 'Empowerment' to its existing '3E' framework of social outreach. As part of Canon Involve, its '4E' initiatives will continue dedicated efforts in the fields of Education, Eye care, Environment along with Empowerment.
The day was a celebration of the upcoming Independence Day to inspire students to learning, showcase and celebrate life. Various activities were organised to build the team spirit amongst children. A painting competition was organised for various age groups and winners were recognised and awarded. A cricket match was also organised where the Canon India CEO, Kazutada Kobayashi along with Canon employees played a friendly match with the SOS village children.
Anuja Bansal, Secretary General, SOS Children's Villages India, shared, "At the SOS Children's Villages, our focus is on bringing up children in a secure and healthy home. Since last five decades, our organisation is focusing on the holistic development of young lives by providing them the love and care of a "Mother" and a family of brothers & sisters. Partnership with like-minded institutes like Canon, provides us further encouragement to continue towards our goal with more vigour and commitment. Their support will help put smiles on the faces of the children in our villages and add value to their growth and development."
Additionally, Canon India is set to introduce Vocational and Skill Development Training under its flagship CSR initiative "Adopt a Village". The campaign will launch in the month of September in its first adopted village in Ferozpur Namak in Haryana.