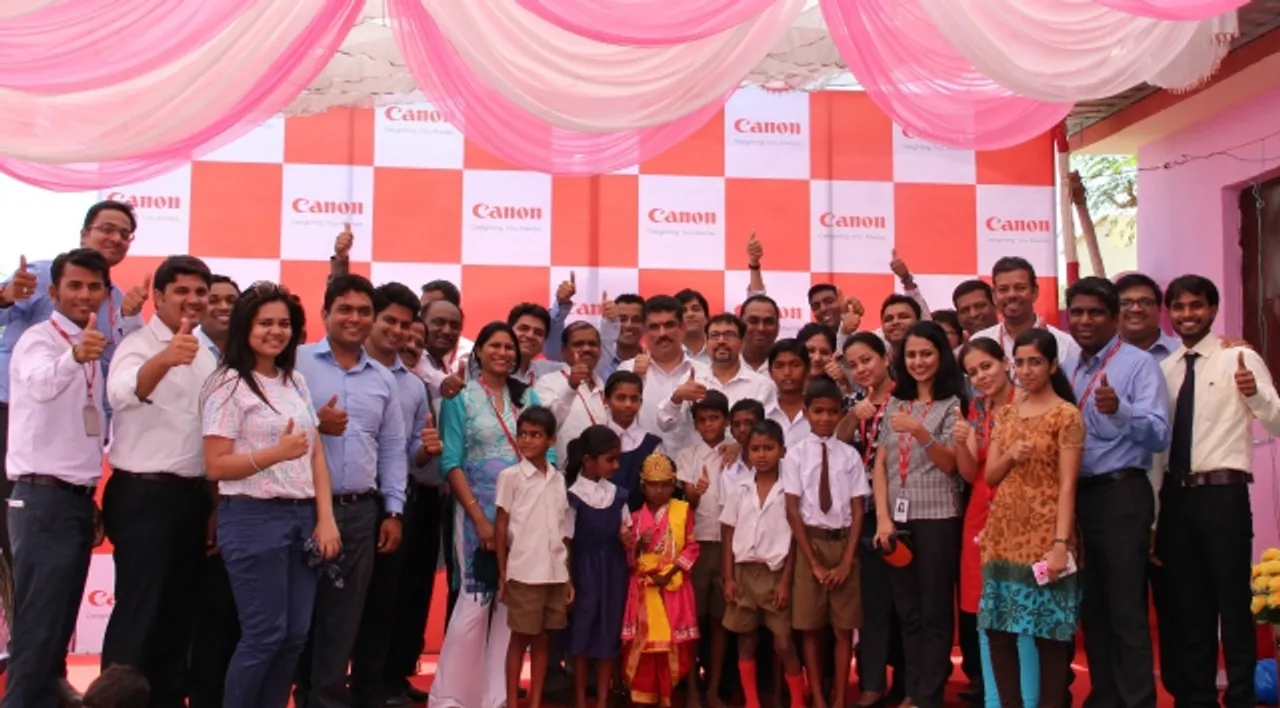 Mumbai (May 10, 2016): Canon India celebrated the first anniversary of adoption of Karanjoti Village at Thane district in Mumbai, Maharashtra, recently. As part of it's flagship programme 'Adopt a Village', Canon India has adopted 4 villages in the country so far; Ferozepur Namak in Haryana, Maharaja Katte in Bangalore, Karanjoti in Maharashtra and Sol Gohalia in Kolkata to support the village with better education facilities, sustainable environment, health and hygiene along with complete eye care facilities.
Nearly a year back, Canon India adopted Karanjoti village to redefine the lives of people in and around the village by providing them with facilities for a well-developed and sustainable living. Karanjoti Village has seen numerous developments, since its adoption by Canon India. Capacity building in the school has led to students returning to the village school to enjoy better classroom infrastructure, clean drinking water supply, a resource centre with a non-formal education teacher to impart computer literacy, art and craft skills and encouraging sports among the students of all grades along with a vision centre for better eye care services.
More than 40 Canon India employees visited the village to celebrate the special day with their Karanjoti family. All the school children were handed over a pair of new school bags, shoes and socks as a small token of encouragement and appreciation. Ensuring a progressive way forward for the young lives, Canon identified children with refractive errors and provided spectacles, during free eye check-up camp conducted in the school.
Speaking about Canon's efforts in this direction, Kazutada Kobayashi, President & CEO, Canon India, said, "Adopt a Village initiative is our way to ignite the passion to live a healthy informed life. Our vision of develop the communities around us has brought us a long way. The anniversary celebration at Karanjoti village stands testimony to our efforts and accomplishments in the communities we serve. As we come by a year, it is truly overwhelming and satisfying to see the outcomes of our various endeavours."
"Every village we adopt is part of the extended Canon family. Our employees take equal interest in engaging with the villagers to create awareness and educate them about the basics of living a holistic life. We aspire to continue of dedicated efforts in various villages as to achieve an all-round development for the community," he further added.
Not just the students and the school, the village has witnessed many developmental activities throughout the year. Solar panels have been set up in two buildings where there was no electricity, new water tanks and water purifiers have been installed and toilets have been re-constructed along with new doors. Pursuing the facilitation of eye care facilities, the vision centre in the village has screened around 62 villagers during the last one year.
'Canon India Involve', as the name suggests, involves its employees in every initiative of the company. It is the support of the employees that makes the CSR initiatives a success every time. Employees frequently visit the school's resource centre to organize interactive sessions and campaigns with the school children. In the past, activities like 'Wash Campaign' was organised to highlight the importance of good hygiene among students and 'Earth Hour 2016' was celebrated with the students emphasising the need to conserve electricity in the village. On many occasions, employees also mingled with students through games like cricket and badminton, distributed gifts and donated sports equipment for the resource centre.