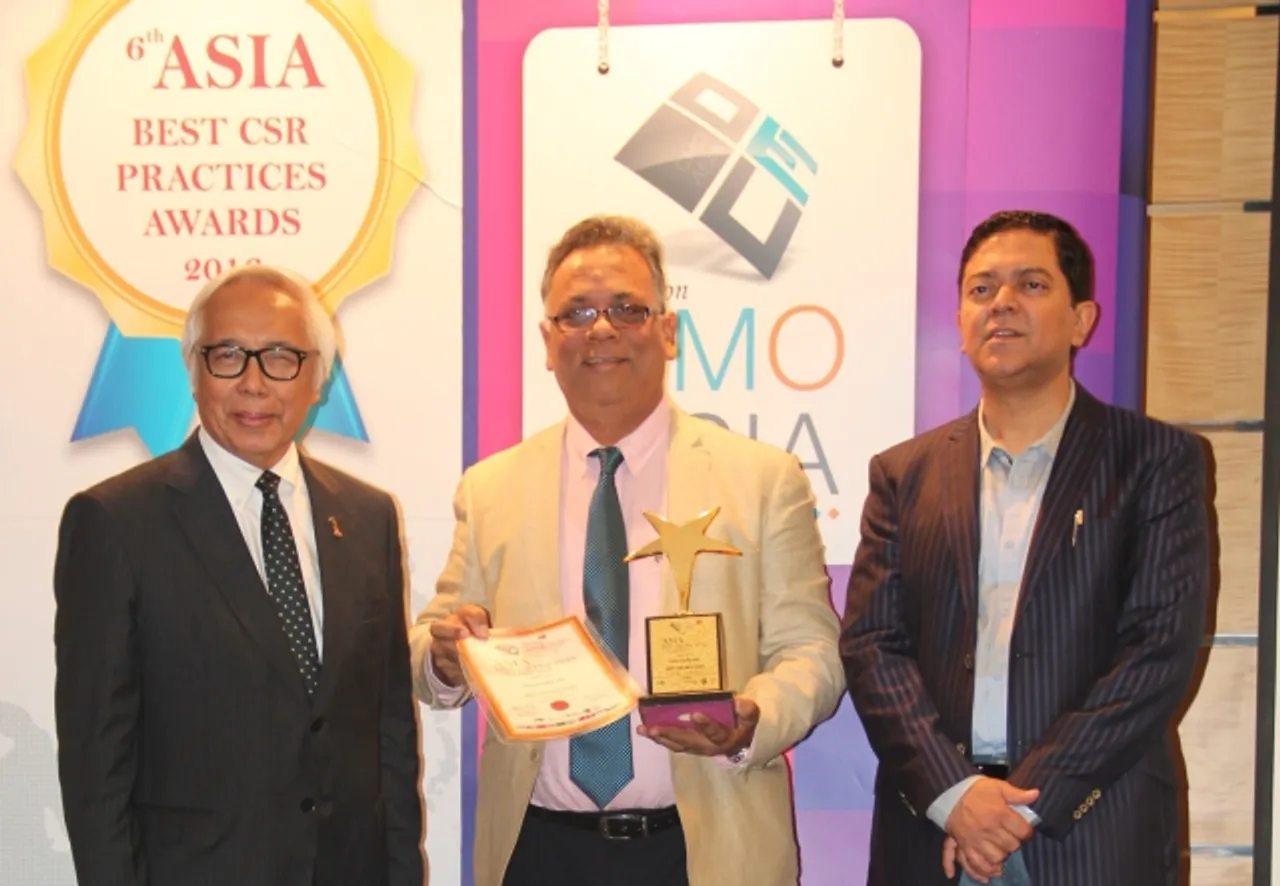 Cairn India Limited, has received the Best Corporate Social Responsibility (CSR) Practice award at the 6th Asia Best CSR Practices Awards 2016 hosted by CMO Asia at Singapore. Manoj Aggarwal, Head – CSR & Stakeholder Management received the award on behalf of the company.
Best CSR Practices Awards is Asia's highest recognition for corporate organisations that have a significant and positive impact on people, communities and the environment. The award recognizes Cairn India's innovative and progressive CSR practices including skill development of youth and providing safe drinking water to the community in Rajasthan and nearby states.
Commenting on the award, Sudhir Mathur, acting CEO of Cairn India Limited said, "At Cairn, we are committed to maintaining the highest standards of CSR in our business activities and aim to make a difference, wherever we operate. We are very proud of the recognition we have received for the kind of work we do. We strive to continue doing excellent work dedicated to our communities."
Water scarcity and the lack of access to safe and clean drinking water has been one of the most pressing problems in rural as well as urban India. Cairn India has initiated a key CSR intervention to support the Government of Rajasthan (GoR) in its effort of providing safe drinking water to households in the state. In this initiative, Cairn is positioned to touch the lives of a million-plus people. The company initiated the Jeevan Amrit pilot project to ensure clean and safe drinking water to the communities in the districts of Barmer and Jalore through the establishment of ATW (Any-time Water) kiosks. A key feature of the project is that it is a community managed initiative, giving members a sense of ownership and fostering rural entrepreneurship.
In alignment with the Skill India campaign the Cairn Enterprise Centre (CEC) provides skill training, career counselling and linkage to employment opportunities to many comprising over 12,000 youth including women since 2007. Through the Cairn Enterprise Centre (CEC), various income generation activities have also been introduced to empower women. Cairn Centre of Excellence (CCoE) – a skills development and vocational training centre in Jodhpur, is contributing to the renewable energy sector in India by educating and imparting skill development to the local community in solar and wind energy. Students who have completed their training have received placements in some of the best companies in the renewable sector. Through this programme Cairn India is creating awareness about clean energy jobs and Green Entrepreneurship among the youths.
Cairn's operations are located in some of the most economically backward regions of the country and being one of the largest private institutional actors in the region, it is transforming lives of communities in Andhra Pradesh, Rajasthan and Gujarat, as a result of the company's sustainability and CSR initiatives.