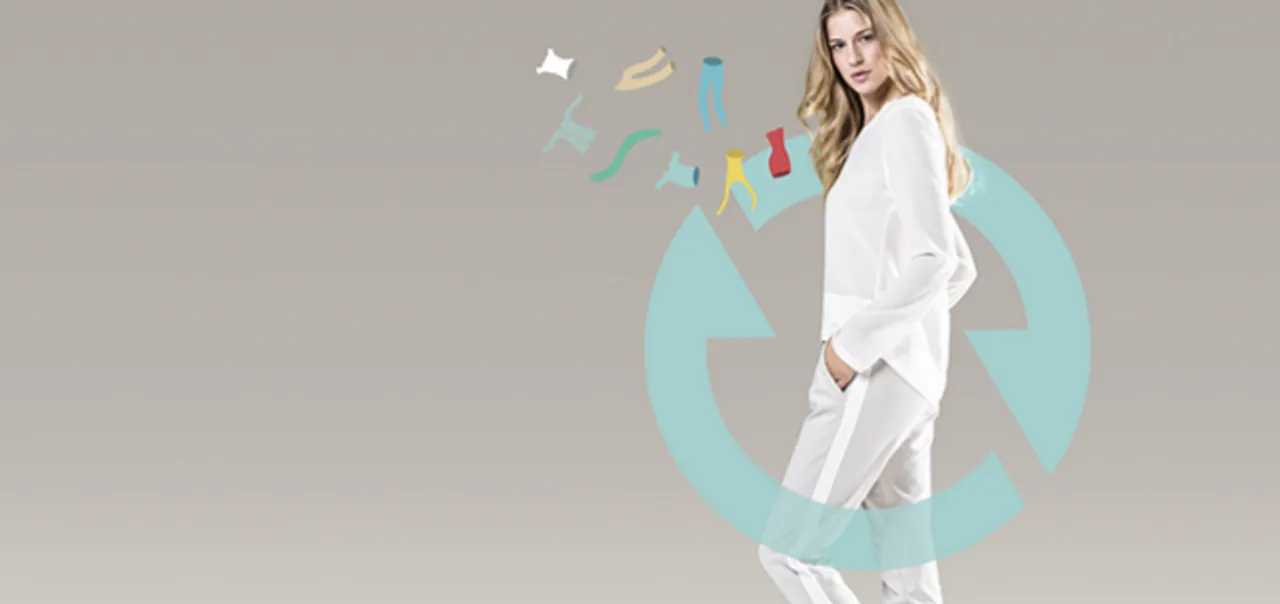 Even more brands are making moves towards a more circular economy through textile innovation and consumer engagement. Recently, H&M debuted its new "Bring It" garment recycling campaign, as well as a new BIONIC-based Conscious Exclusive collection, while Kering announced the next stage of its ambitious sustainability plan. Now, Lenzing, G-Star and Patagonia are launching new initiatives to bring the fashion industry closer to closing the loop.
Back in October, Lenzing released a new TENCEL product made from cotton waste. Now, four months later, the textile manufacturer has developed a new fiber generation based on cotton scraps and wood.
"For Lenzing, developing circular business models in the fashion industry ensures the decoupling of business growth from pressure on ecological resource consumption. It reduces the need to extract additional virgin resources from nature, and reduces the net impact on ecological resources," said Stefan Doboczky, CEO of Lenzing Group and Robert van de Kerkhof, CCO of Lenzing Group.
Launched at Premier Vision textile fair in Paris, Refibra is the first cellulose fiber featuring recycled material on a commercial scale. Made from cotton scraps and wood during the TENCEL production process, the textile will solidify Lenzing's reputation as a leader in the field of environmental fiber technology and is expected to push new solutions in the textile industry towards a more circular economy by recycling product waste.
"The brand name Refibra and the claim 'Reborn Tencel fiber' illustrate immediately that this new kind of fiber is made of recycled materials promising reduced reliance on natural raw materials," said van de Kerkof.
"Tencel itself is an environmentally responsible fiber of botanic origin. With Refibra, we add to the future of manufacturing and start to reassess waste as a resource. The target is to close the loop. We will not stop our innovation before we are there. Lenzing is working for a better planet."
The company has simultaneously developed a new identification system that will assure consumers that the fiber is made from recycled material. The system will help to identify the Refibra fiber in the finished textile. This guarantees transparency in the overall processing chain. The Refibra fiber itself is part of the global Lenzing Branding Service and the brand is licensed once the textile has undergone a certification process.
---
Meanwhile, G-Star is making moves to create 100 percent Bluesign products in 2017. The company expects to have prototypes of its first line of Bluesign label products ready in the next few weeks, and a full line of products could launch as early as this year.
The brand is currently in the process of ensuring that it uses all Bluesign components for the collection, from zippers and rivets to labels and lining.
"We need to make sure that these components are sourced from Bluesign-approved suppliers and are produced according to Bluesign criteria," said Sara Fessler, G-Star Raw's Restricted Substance List and environmental specialist. "This is our challenge for this year."
Beginning in 2017, G-Star also plans to launch a new sustainable production innovation every other year. Fessler said the innovation will be based on either materials or washing levels — steps she said that will help close the loop in denim.
G-Star combines Bluesign's chemical usage guidelines with support from the ZDHC Foundation and its own individual action plan, which entails a team of technical engineers working with G-Star's 28 key suppliers to clean up their chemistry.
The company joined Bluesign in 2013, allowing the sustainability solutions provider to set its standard for responsible chemical use. In 2015, G-Star teamed up with Calik, the first Bluesign denim mill, and together produced the first Bluesign-approved denim fabrics, which came onto market in 2016.
"We believe we are on the right path. And we're working hard to constantly improve our processes." Said Fessler. "Our mission is blue. We're pioneers in denim and we're one-of-a-kind and we take up the challenge to detox our denim processes and the industry."
---
Finally, Patagonia continues its war on microfiber pollution with new initiatives that will educate consumers about the harmful effects of synthetic apparel. The apparel company's consumer engagement plans include tips about synthetic garment care and the launch of Guppy Friend, an eco-friendly machine-washing bag that minimizes microfiber pollution from laundry cycles.
With each purchase of a synthetic apparel product from Patagonia, consumers will receive tips about synthetic garment care, which apply to all forms of synthetic clothing — not just Patagonia products. The universal tips – which include buying high-quality apparel, washing more sustainably and using a fiber filter device for laundry — aim to help consumers reduce the shedding of microfibers in the wash and ultimately out of the Earth's main watersheds.
According to Patagonia's recent study with researchers from the University of California, Santa Barbara, a low-quality, generic-brand fleece sheds more than Patagonia's products. The company urges consumers to buy higher-quality apparel, so they may use garments longer and minimize their personal impact on the planet.
Patagonia also urges consumers to only wash their garments occasionally and spot clean if possible to remove stains. As illustrated through previous Patagonia research, synthetic jackets washed in top-load washing machines shed over five times as many microfibers as the same synthetic jacket in front-load washers. To minimize the number of microfibers transported from washing machines, Patagonia suggests consumers use front-load washers for more sustainable laundry cycles.
Consumers are also advised to use a fiber filter bag to reduce the flow of microfibers in drains. To promote the use of fiber bags, Patagonia will begin offering consumers the Guppy Friend sustainable fiber bag at cost. The bag filters out 99 percent of microfibers released during washing, which allows consumers to remove microfibers before they move to waterways. Developed by a German-based Patagonia partner, the Guppy Friend will enable consumers to drastically reduce microfiber pollution with washing machines.
Source:
Sustainable Brands®
 is a global community of brand innovators who are shaping the future of commerce worldwide. Since 2006, their mission has been to inspire, engage and equip today's business and brand leaders to prosper for the near and long term by leading the way to a better future. Digitally published news articles and issues-focused conversation topics, internationally known conferences and regional events, a robust e-learning library and peer-to-peer membership groups all facilitate community learning and engagement throughout the year. Sustainable Brands is a division of Sustainable Life Media, headquartered in San Francisco, CA.