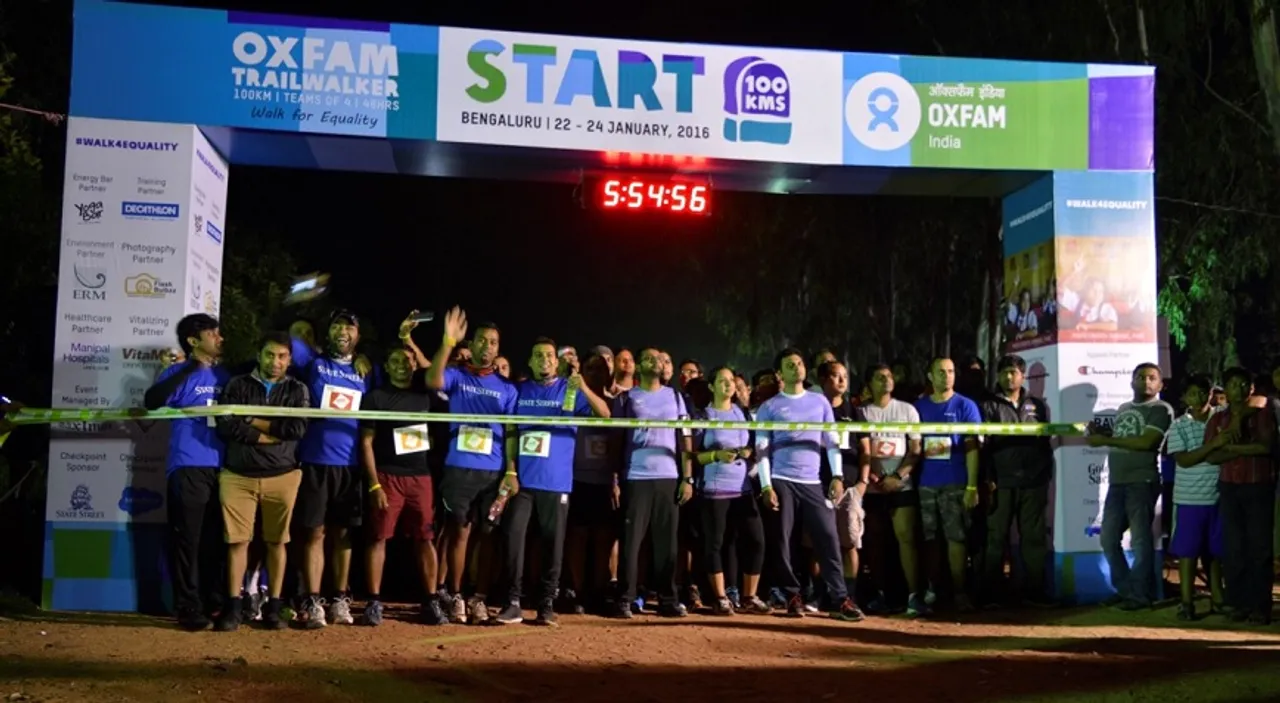 The citizens of Bengaluru came together to support Oxfam India's work on inequality and helped raise INR 3.3 crores by participating in their global flagship fundraising event, Oxfam Trailwalker. This is the 5th edition of Oxfam India's Trailwalker in Bengaluru. Teams of 4 participated to walk a 100 km trail in 48 hours. This year's event, held from January 22 to 24, 2016, saw 192 teams participate, ranging from individuals teaming up, to corporates like Goldman Sachs, Accenture, Thomson Reuters, Technicolour, Deutsche Bank, HSBC and State Street, coming out in support. A 50 km trail was also introduced this year.
Oxfam Trailwalker began in 1981 as a military training exercise for the Queen's Gurkha Signals Regiment in Hong Kong. It has since grown into one of the world's leading team endurance challenges. 16 events were organised across 9 countries in 2015. India hosted two of these, the second in Mumbai.
The 100 km trail, starting from Sathanuru and ending at Nettigere, passes through 30 villages and picturesque farmlands, Arkavati River and dam, Eucalyptus plantations, silk farms and forested areas. But the competition comes with its challenges. Shashidhar Gurumurthy's team "Easy-movers" from Sales Force India said, "When you are crossing these forested areas in the night, its pitch dark and you're trying to locate signages, being part of a team is a huge help trying to navigate and keep up the spirit in difficult circumstances."
The challenge is not only taken up by the teams but even by the 600 volunteers who come from management colleges, corporates and medical partners to support the teams in this extreme challenge.
Milind Soman, a regular supporter of Oxfam Trailwalker, present at the start point to cheer the teams at the flag off ceremony, said, "Oxfam India is fighting to reduce inequality at every level of the society. The challenge is immense but every step you take on the 100km trail will be a milestone."
Goldman Sachs' all men's team, "Seize the Day", made the record by reaching the finish point first in 14 hours 54 minutes and 44 seconds. "Contextual Learning" – a group of 4 young girls from France was the fastest all women's team, finishing in 27 hours and 30 minutes.
The funds raised by Trailwalker go into the social justice programmes Oxfam India supports in some of the poorest states in the country, fighting inequality. ​ Oxfam India's Chief Executive, Nisha Agrawal said, "The Bengaluru Trailwalker is happening at the same time that Oxfam's new report on inequality has been released showing how rapidly inequality is rising globally and how 62 people now have as much wealth at 3.6 billion people who are the bottom 50 percent of the world's population. Oxfam India's work is dedicated to reducing inequality within India and we thank you for your support for it."
Press Release Source: