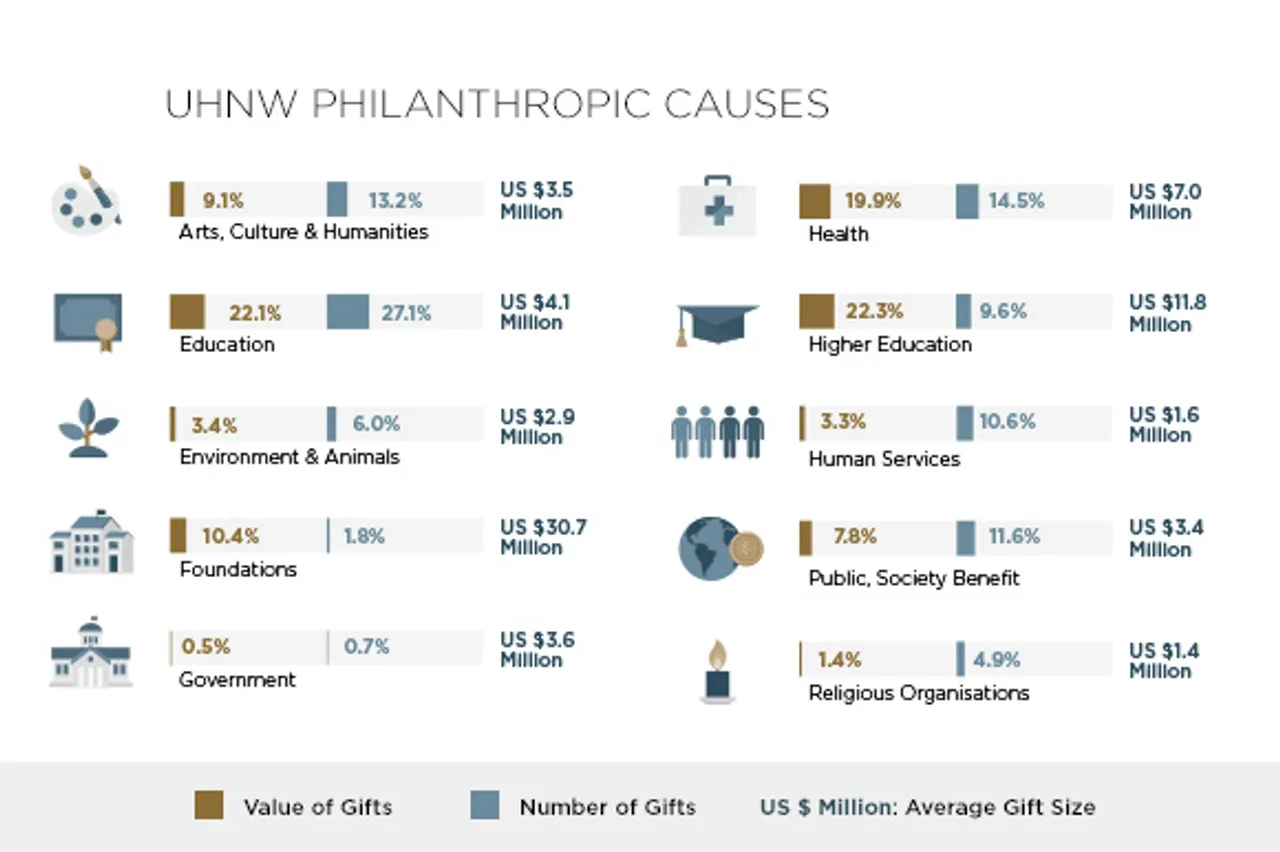 New York, 9 December, 2015 – America's billionaire entrepreneurs give, on average, US$179.5 million per person to various causes during their lifetimes — more than any other ultra high net worth (UHNW) donor group — according to a new report by Wealth-X and Arton Capital that also looked at the giving trends of ultra wealthy individuals and how the wealthy are currently giving back to the refugee crisis.
The Wealth-X and Arton Capital Major Giving Index, which tracks trends in UHNW charitable giving since 2004, was up 6.4% year-over-year. With emerging markets beginning to slow down and uncertainty over the global economy setting in, the growth in the index trailed the 36.6% increase seen the year before. However, the index still remains at an all-time high at a level of 234, up 25% since its inception, signifying that UHNW donors are still very much committed to giving back to causes such as the Syrian refugee crisis.
Wealth-X records more than 211,000 UHNW individuals globally with at least US$30 million in net assets.
Here are some other key findings from the report:
Global philanthropic giving among the world's ultra wealthy totaled US$112 billion in 2014, equivalent to the GDP of Morocco.
The typical UHNW philanthropist donates $28.7 million in his or her lifetime.
UHNW individuals each contributed, on average, US$530,100 last year in the form of donations and pledges to philanthropy.
America's ultra wealthy women who inherited their wealth give nearly 19% of their fortune to charitable causes, more than any other UHNW donor group.
73.2% of UHNW philanthropists are self-made.
65% of UHNW individuals donate over $1 million throughout their lifetimes.
Based on total donations, India has the most generous donors, followed by the United Kingdom and Hong Kong.
Based on total donations as a percentage of net worth, the United Kingdom has the most generous donors, followed by the United States and Hong Kong.
Education remains the most popular cause that UHNW individuals donate to, followed by health.
While wealth inequality remains an important concern for UHNW donors, the global refugee crisis, particularly the stream of refugees seeking entry into Europe to escape unrest in Syria and other parts of the Middle East and North Africa, has been put front and center, prompting UHNW individuals to become more involved – in rescue and relief efforts, as well as fundraising and advocacy.
The report shows that:
1 in 28 UHNW individuals (or 7,441 persons) have donated to refugee efforts, totaling US$2.7 billion.
The average gift size to the refugee cause is US$357,500.
Providing food, shelter, education and a stipend for an estimated 4.3 million Syrian refugees will cost an estimated US$60.2 billion.
With 211,275 UHNW individuals worth US$29.7 trillion globally and 5,975 UHNWIs worth US$995 billion in the Middle East and North Africa (MENA) region, UHNWIs have the opportunity to help close the financing gap. If each UHNWI contributed US$815,100, or just 2.8% of their lifetime giving, all registered Syrian refugees could be accommodated.
Mykolas Rambus, CEO, Wealth-X, commented: "As the global authority on wealth intelligence, we are pleased to, once again, partner with Arton Capital, the global citizenship experts, to produce this second annual edition of the Philanthropy Report. This year's study is both revealing in uncovering differences in giving according to UHNW donor groups, and it is topical as it highlights how ultra wealthy donors are directly helping the refugee crisis."
Armand Arton, President & CEO, Arton Capital added: "The global migration crisis facing Europe is a wake-up call to the world. The desire for a better life is a universal human necessity. At Arton, not only do we advise high net worth individuals on second residency and citizenship planning, but we also involve them in helping the less fortunate through initiatives as the Global Citizen Solidarity Contribution and our work through the Global Citizen Foundation. We are delighted that this year's Global Citizen Forum award was bestowed to a generous initiative founded by the wealthy Catrambone family focused on saving refugee lives – the Migrant Offshore Aid Station."
About Wealth-X
Wealth-X is the global authority on wealth intelligence, providing sales, marketing, strategy and compliance solutions to clients in the financial services, luxury, not-for-profit and education sectors. Its award-winning research and thought leadership are regularly cited by the world's media such as CNBC, Financial Times, Thomson Reuters and BBC. Wealth-X has more than 250 staff in 10 global centers, including Singapore, London and New York (www.wealthx.com)
About Arton Capital
Arton Capital empowers individuals and families to become Global Citizens. As a global financial advisory firm specializing in investor programs for residence and citizenship, Arton plays a critical role in helping governments, consultants, legal and financial professionals and investors to meet their goals quickly, efficiently and more effectively. Arton's global operations are spread in over 15 offices around the world and have helped attract over US$2.7 billion foreign direct investment to countries. Arton Capital is a member of The Arton Group, which comprises of fully licensed international banking, financial advisory and investment consulting companies tailored to the needs of global citizens (www.artoncapital.com)
Re-published from
MySocialGoodNews.com
as part of CSRlive's collaboration with
Your Mark On The World