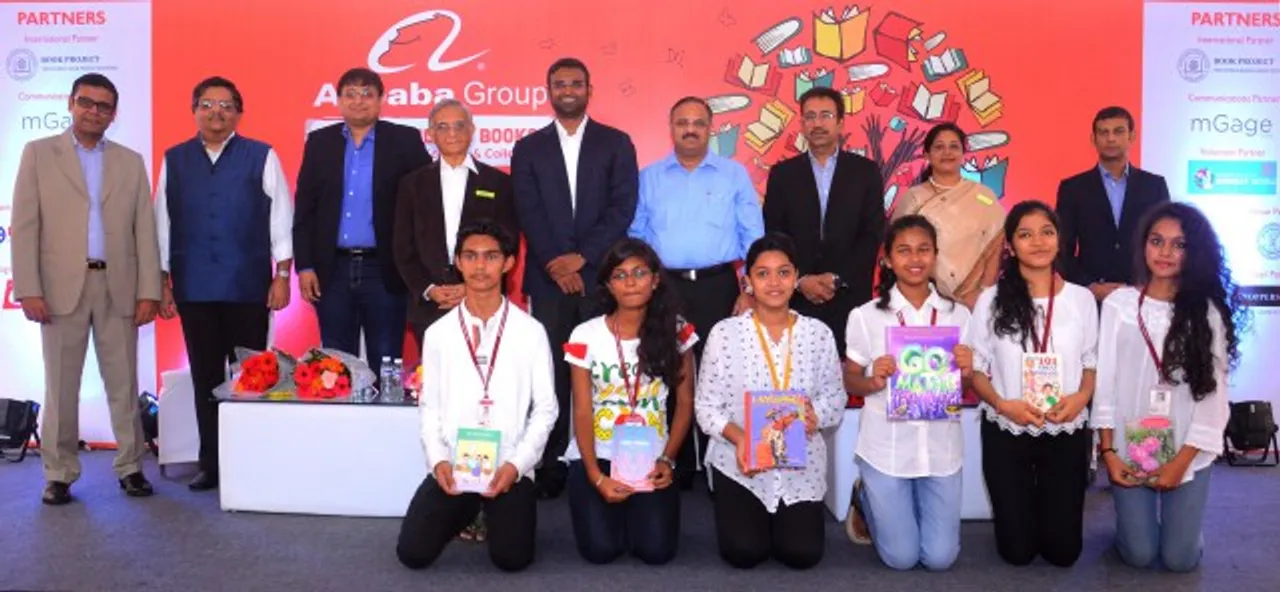 Mumbai (September 29, 2016): Mission Million Books, a book donation drive launched by Alibaba Group in association with Crossword Bookstores and RatnaNidhi Charitable Trust, held its first book donation ceremony at the Nava Samaj Mandal Night Degree College in Mumbai. The month-long donation campaign collected close to two lakh books to aid underprivileged students in over 2,500 schools and colleges across India.  Representatives from the educational institutions could pick from a wide range of textbooks to benefit their students.
The campaign, led by Alibaba Group, has received a donation of 30,000 books from The World Bank Family Network Book Project. Delhivery arranged book pickups through its 6,000 plus locations across India and mGage India provided mobile marketing and engagement for the campaign. Kotak Mahindra Bank's over 1,300 branches spread across India's 'Kona Kona' provided support for collecting books, and members of Rotary Club of Bombay Worli helped with book collection, categorization, distribution, and donation. RatnaNidhi Charitable Trust coordinated with schools and provided on-ground execution support as Crossword and Shoppers Stop set up book collection points in 65 locations. 
A pan-India initiative aimed at providing the underserved with access to quality educational materials for their growth and advancement, Mission Million Books supports the Indian government's efforts to enable access to quality education for all. The initiative opened doors for numerous educational institutions to have access to, and enhance the quality of, academic material provided to their students.
Speaking at the occasion, K. Guru Gowrappan, Global Managing Director, Alibaba Group said, "Books play a critical role in growth and development of individuals. As we all know, knowledge brings progress, humility, peace and makes us all better human beings. Education is a basic human right and it is our duty to ensure that everyone has access to basic education." He further added, "Mission Million Books is one step towards helping improve accessibility of education to Indian students. This is a great start and encourages us to focus our efforts into creating something bigger to help educate the community at large."
Kinjal Shah, CEO, Crossword Bookstore said, "One of our mission statements is to inculcate reading habits amongst society and we are thrilled to be able to contribute to the Mission Million Books project. Reading widens the knowledge base, sparks off ideas and starts a chain of imaginative thought. It is an education in itself and it is vital that we support the school curriculum in diverse ways to inculcate and enhance the reading habit.  We thank all schools and colleges who have come to collect these books."
Rajiv Mehta, Chairman, RatnaNidhi Charitable Trust added "Our vision of empowering students through education is now achieving greater heights by partnering with Alibaba Group and Crossword Bookstores. We have embarked on a journey to Educate Young India, and through the Mission Million Books initiative, we hope to realise this dream very soon."
Indian citizens across the country were invited to donate textbooks and educational material for the benefit of the underprivileged. In addition to mobilizing and coordinating with all partners to prepare for the Mission Million Books project, Alibaba Group has donated over 50,000 books to the campaign.