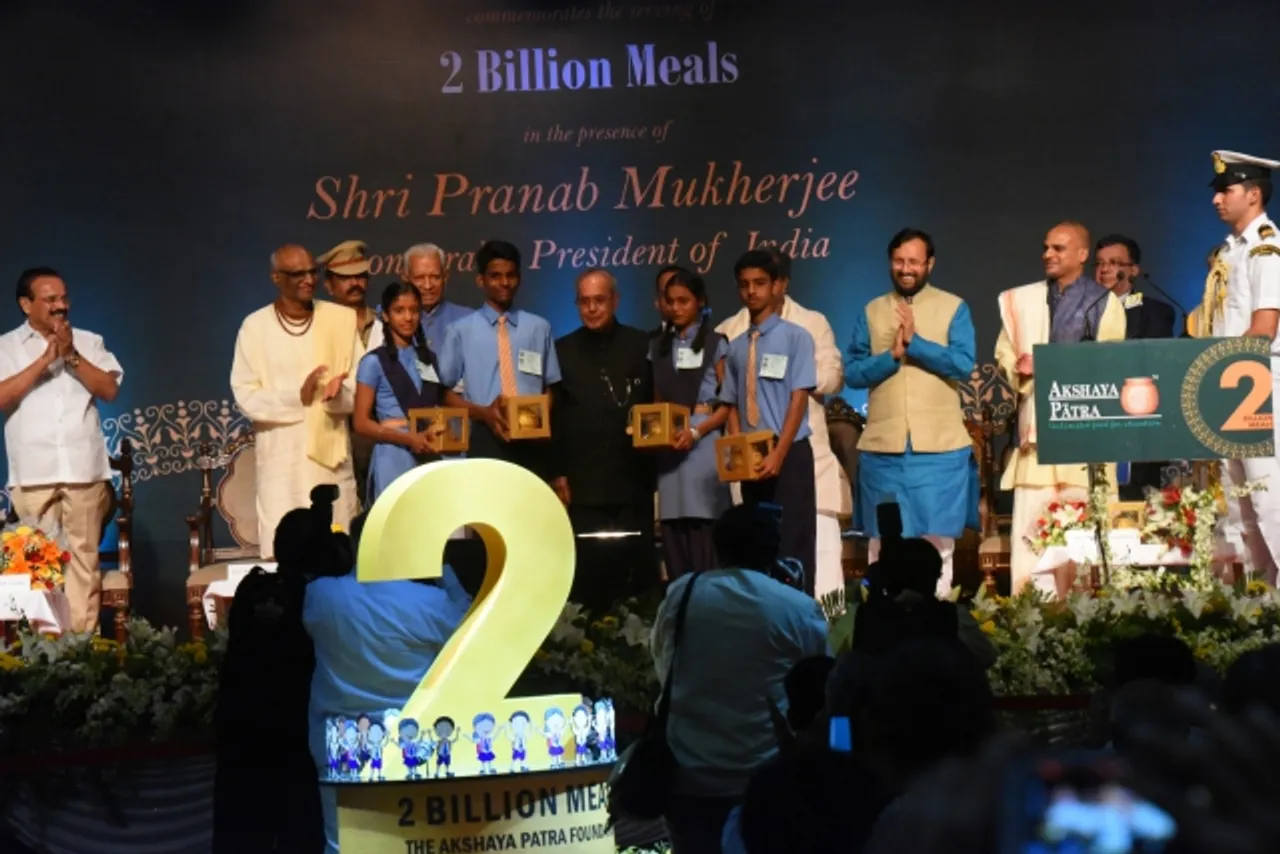 President Pranab Mukherjee visited The Akshaya Patra Foundation to commemorate the milestone of serving 2 billion meals. The event was hosted at ISKCON Bangalore on 27 August, 2016.
Besides unveiling the 2 billion meal commemorative art installation, the President also distributed symbolic commemorative treats to school children. Addressing the occasion, President Pranab Mukherjee, stated that the occasion gives everyone an opportunity to appreciate the significance and strength of a fresh and nutritious mid-day meal. He also appreciated the Chief Minister of Karnataka Siddaramaiah, for his able leadership that has led to the immense success of the 'Akshara Dasoha' Scheme (the Mid-Day Meal Programme run by the Government of Karnataka) in the state of Karnataka. He applauded the 'Ksheera Bhagya' Scheme that has proved to be an innovative tool for incentivising the existing Mid-Day Meal Programme of the Government of Karnataka. He also lauded Akshaya Patra for ably supporting the Government of India, Government of Karnataka and all the other State Governments, in the successful implementation of the Mid-Day Meal Programme. He was also happy to learn about Akshaya Patra's country-wide presence and wished The Foundation success in its future endeavours. In conclusion, he reiterated the need for greater community participation towards the cause of 'unlimited food for education.'
Sudha Murty, Chairperson - Infosys Foundation and Bollywood Singer and music composer Shankar Mahadevan , congratulated The Foundation on attaining the milestone of cumulatively serving two billion meals.
Speaking on the occasion, Shri Madhu Pandit Dasa, Chairman - Akshaya Patra, said, "It is indeed a great honour to celebrate the milestone in the presence of The Honourable President of India, Shri Pranab Mukherjee and other distinguished guests. The Government of India, the Karnataka Government and all other State Governments of India have been Akshaya Patra's greatest pillar of support over the past 16 years. It is with their encouragement that Akshaya Patra aspires to fulfil its mission of feeding, '5 million children by 2020'. Akshaya Patra will continue to function as a loyal and diligent implementing arm of the Government's Mid-Day Meal Programme. On behalf of Akshaya Patra, I also thank all our Honourable Ministers and Trustee members present here, whose support has been pivotal for The Foundation's success in reaching out to millions of children across India." The milestone of cumulatively serving 2 billion meals is a reiteration of Akshaya Patra being the first NGO-run school meal programme in the world to have ever achieved this feat. The Foundation is firmly poised to achieve its mission of feeding '5 million children by 2020'; which will facilitate in furthering its vision – 'no child in India shall be deprived of education because of hunger.'