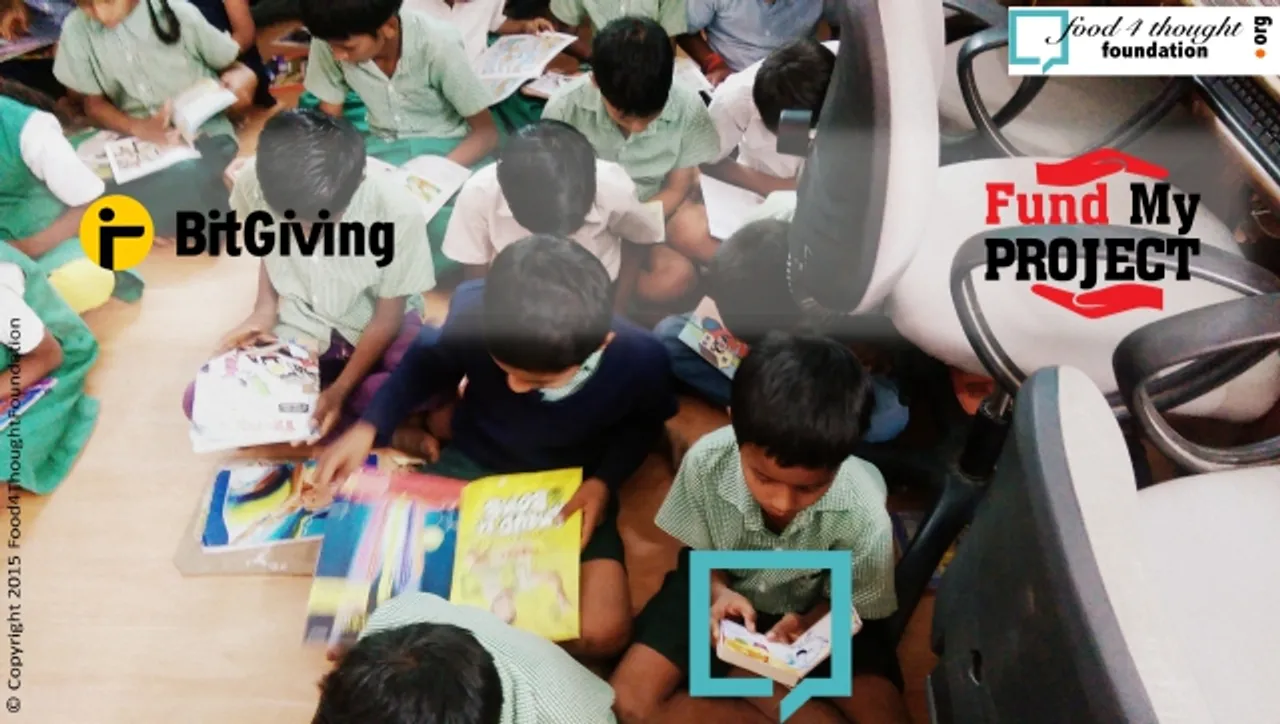 Here's how your CSR Funding can help revive book reading and set up libraries in schools that do not have them. 
This cause is featured on Fund My Project as part of CSRlive.in's collaboration with BitGiving.com
Project by: Food4Thought Foundation
Location: Hyderabad
Category: Eligible CSR activity as per Companies Act 2013, Schedule VII
(ii) promoting education, including special education and employment enhancing vocation skills especially among children, …
Here's what the folks at Food4Thought Foundation are saying about their cause:
Food4Thought Foundation was established in 2015 with a firm belief of 'Connecting Idle Books to Hungry Minds', and fulfilling every book lover's wish and request - just one more page please?We focus on the three major sectors of education, children and arts & publishing. The focus areas range from circulating idle books to building libraries (education), to encouraging reading habits (children) and to saving endangered stories (arts & publishing).
We invite you to be a BOND and 'Breathe Oxygen iNto Decommissioned books and endangered stories'. One of the greatest tragedy of this century, which remains undiscussed, is that we believe that books are meant to be read once, then stored and forgotten. They are treated no more than ornamental pieces that are possessed just for pride. Books are in fact meant to travel, feed millions of hungry minds, bring joy to a million hearts and lighten up a million souls. Let's breathe life into those idle books and preserve stories that are lost with each passing generation.
Our system enables every book donor to track their books and see which part of the country their book is in. With this, we hope that we can revive book reading, and help set up more libraries in schools that do not have access to these resources.
How Your Funds Can Help:
Your contribution of Rs. 75,000 will help us take care of a full library for an annum.
Your contribution of Rs. 5000 will help us dedicate 3 stories (with graphics).
Your contribution of Rs. 4000 will help us drive 6 book collections.
Your contribution of Rs. 1500 will help us drive 2 drop boxes to collect books in different parts of the city.
Food4Thought Foundation came into existence in the later half of 2015 and has been able to: # Build Libraries (6 libraries Activated, 4 ready for opening in 2 weeks, 12 due diligence on) # Joy of Reading (1100 + Children covered in more than 36 Sessions), (Courseware design currently in progress) # Activate idle books (3150 + books already collected), (TRACKER software launched) # Save a Story (5 stories collected as part of the pilot project), ( Production is currently on - Digitising)
Want to Fund this Project?
Visit BitGiving.com here and support the cause.
Looking for funding?
If you have a social project that's high on innovation and impact, but running low on financial fuel, do write in to Nidhi Singh at nidhi@csrlive.in with your proposal, and we'll feature it on FUND MY PROJECT.