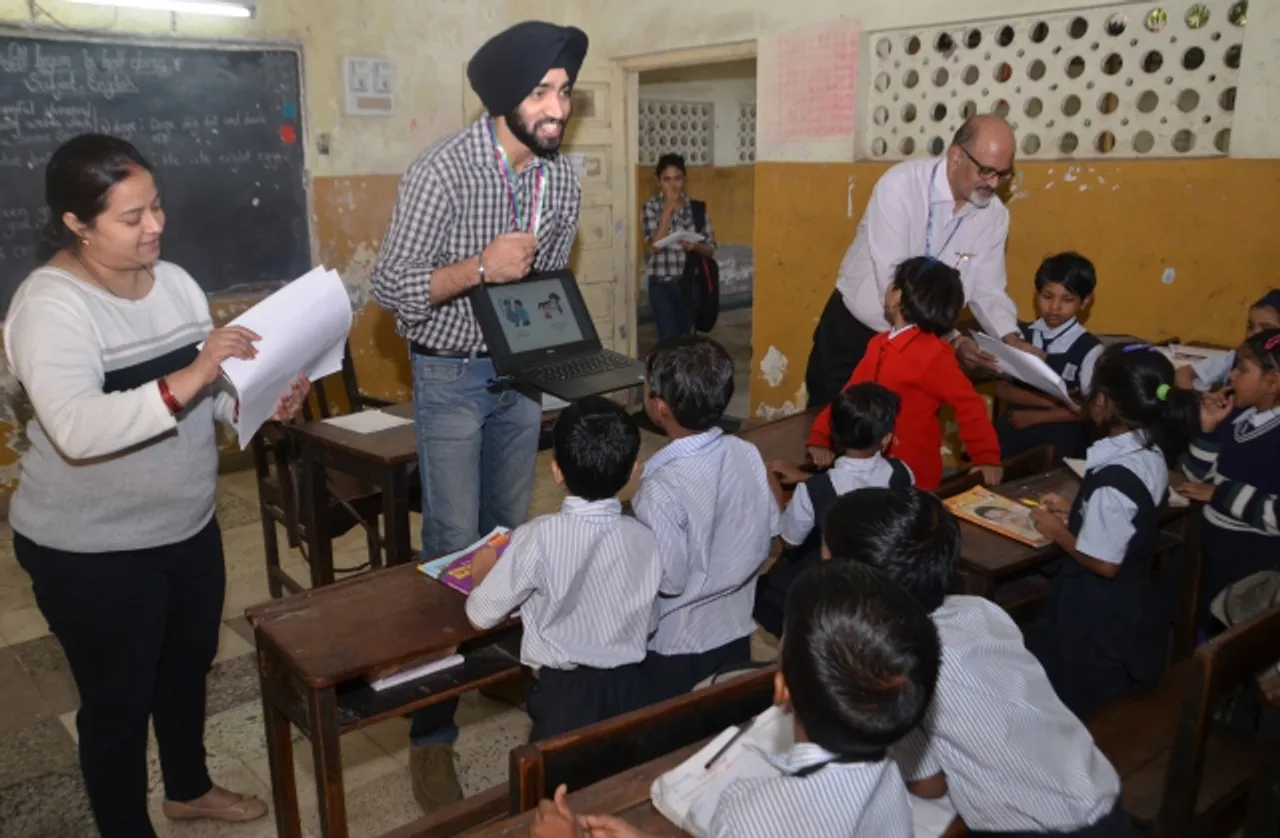 MUMBAI (December 2015): More than 2000+ Godrej Group employees in 9 countries participated in over 55 schools as part of the Group's first International Global Volunteering Day event recently. In India, Godrej employees conducted fun 'healthy for life' activity day at 52 government and low income private schools, with the aim of creating awareness around health, hygiene and sanitation among the children. In total, around 15,000 children participated in the activity.
In Mumbai, Godrej employee volunteers partnered with Teach for India and Kotak Education Foundation and conducted activities including classroom games to create awareness about health, hygiene and sanitation, through mural painting with messages, hand washing, street plays on the theme, poster making and quiz competitions.
While Godrej's employees focused on the health of Indian children, across the globe similar events in 62 schools and orphanages were taking place in Indonesia, South Africa, Argentina, United Kingdom, Nigeria, Mozambique and Kenya.
Speaking about the initiative Sumit Mitra, Head, Group Human Resource and Corporate Service, Godrej Industries Limited and Associate Companies said, "As a group, we are deeply committed to connecting with our communities more meaningfully. In line with this, for the first time, we introduced the Godrej Global Volunteering Day across all our global offices. Over 2,000 Godrejites volunteered their time and skills across 52 locations to spread the message on health, hygiene and sanitation. Going ahead, we are confident that this will evolve into a signature annual platform for our team members to give back to our communities."
Dr. Vikas Goswami, Head of Good and Green function of Godrej Industries Limited and Associate Companies, who volunteered at Teach for India School in Delhi, says, "This year, our theme for Godrej Global Volunteering Day was health, hygiene and sanitation. From film screenings, quiz competitions and interactive games to initiating cleanliness drives, our team members engaged with children and volunteered across 55 schools worldwide. As a next step, we will continue to work with these schools to support them in providing quality education."
The concept of Global Volunteer Day is an extension of Godrej's existing year-round philanthropic volunteering programme. Since its introduction in 2014, more than 50,000+ Godrej employees around the world have given their time to support community projects which are estimated to have helped communities around Godrej's office and plant locations. Volunteers engage in a variety of projects such as skill-based, long-term volunteering preparing young people and adults for the world of work, day-long activities, and fundraising for emergencies.