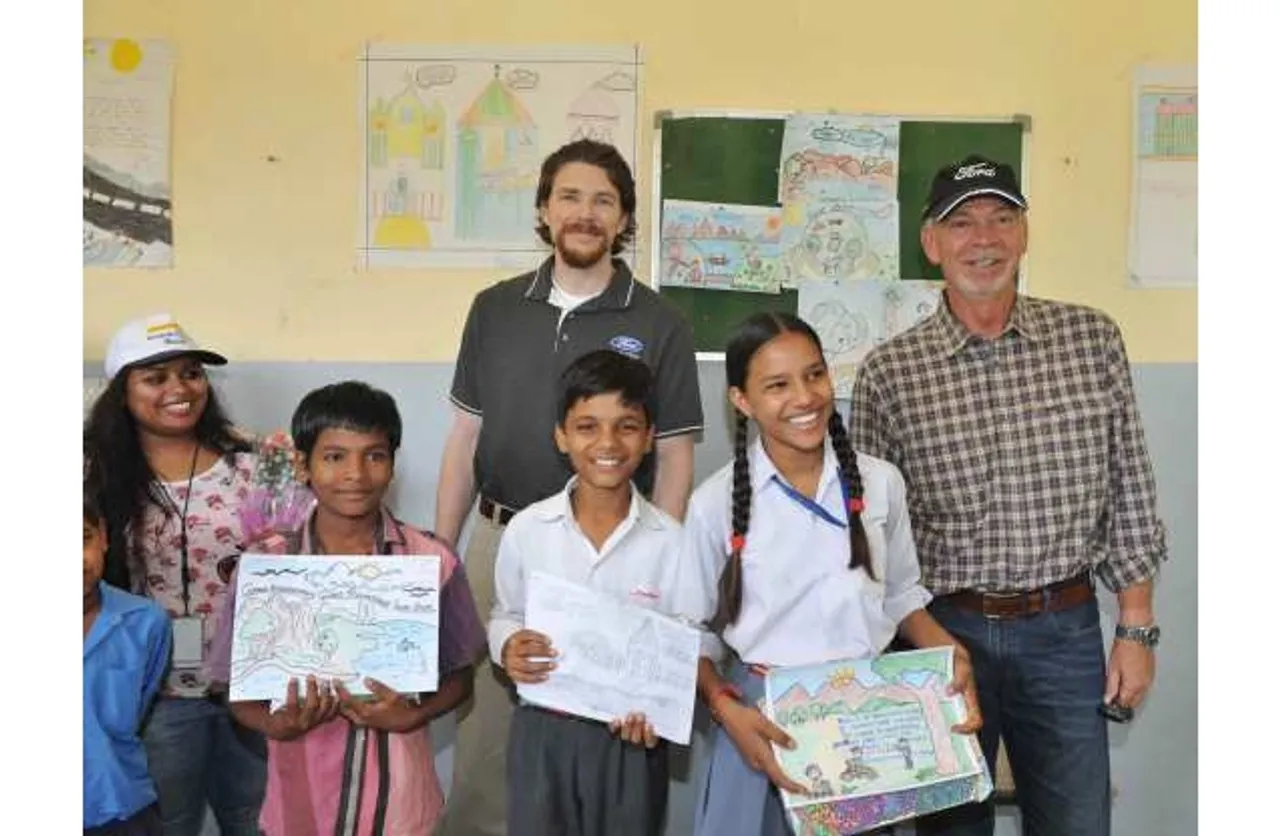 As a part of its new CSR activity, Ford India along with its 14,000 employees across India will come together to celebrate Global Month of Caring this September. Spreading their volunteer work across 40 projects, the Ford India employees will contribute in areas of education, environmental sustainability, safety, health and humanitarian support, across Chennai, Sanand, Gurgaon and Coimbatore.
The Global Caring Month initiatives will also be supported by Ford dealership network across 186 cities across India. Marking the 10th anniversary of Ford Volunteer Corps – Ford's international network of 30,000 volunteers, the signature Global Week of Caring this year has been expanded from a week in September to the entire month. The month long campaign opens more opportunities for Ford employees to volunteer and broaden the company's focus on community service.
As part of Global Caring Month, the core focus of volunteers in India will be on strengthening efforts on Education and Sustainability. In line with its ongoing Happy Schools roadmap on education, the month of September will see Ford volunteers undertake various fun-filled activities - including designing interactive curriculums and creating colourful educational aids - across schools. Additional activities such as Colour-thon, Science Attack and Quiz Hours on health and road safety across schools will be organized to encourage children to showcase their talent and build knowledge confidence.
These activities will further strengthen Ford's ongoing initiatives under 'Happy Schools' program which was first launched in September, 2014 in India. Under Happy Schools, Ford partners with reputed NGOs to implement a social intervention model that addresses the gaps specific to each school. Aiming at 'holistic education', the Happy Schools program is currently implemented across 30 schools in Chennai and Sanand benefiting close to 4000 children.
Reiterating the company's commitment to sustainability, Ford volunteers and dealerships across India will undertake tree sapling planting in areas close to their operations. In addition, the teams in Chennai will also undertaking a beach clean-up drive at the Injambakkam TVS Avenue Beach and the restoration of the Selvapuram lake in Coimbatore.
This will be supported by various awareness campaigns, highlighting the importance of preserving the environment, personal hygiene road safety. Helping local communities, the month will see medical camps for women and children and menstrual awareness campaigns for adolescent girls being organised. Besides this, employees will also visit and interact with residents of charitable organisations and help source facilities for the residents of these organisations.
Globally, Ford Motor Company announces a new initiative that strengthens its leadership in community service and provides younger employees an innovative opportunity to explore their growing interest in civic engagement and volunteering.
Ford and Executive Chairman Bill Ford have launched the Bill Ford Better World Challenge, a global grant program that will award up to $500,000 to community service projects identified by company employees. The program, jointly funded by the company and Bill Ford, will work in tandem with Ford Volunteer Corps, Ford's international network of 30,000 volunteers that is celebrating its 10th anniversary this year.
The Ford Volunteer Corps was launched by Bill Ford in 2005 in response to the devastating Indian Ocean tsunami. That outreach and sense of community has grown into a highly coordinated global network in which each year 30,000 volunteers work on 1,600 projects across six continents. Whether helping children read, fighting hunger or delivering clean water, thousands of Ford volunteers have worked on 9,000 projects in more than 40 countries, contributing more than 1 million hours of community service.