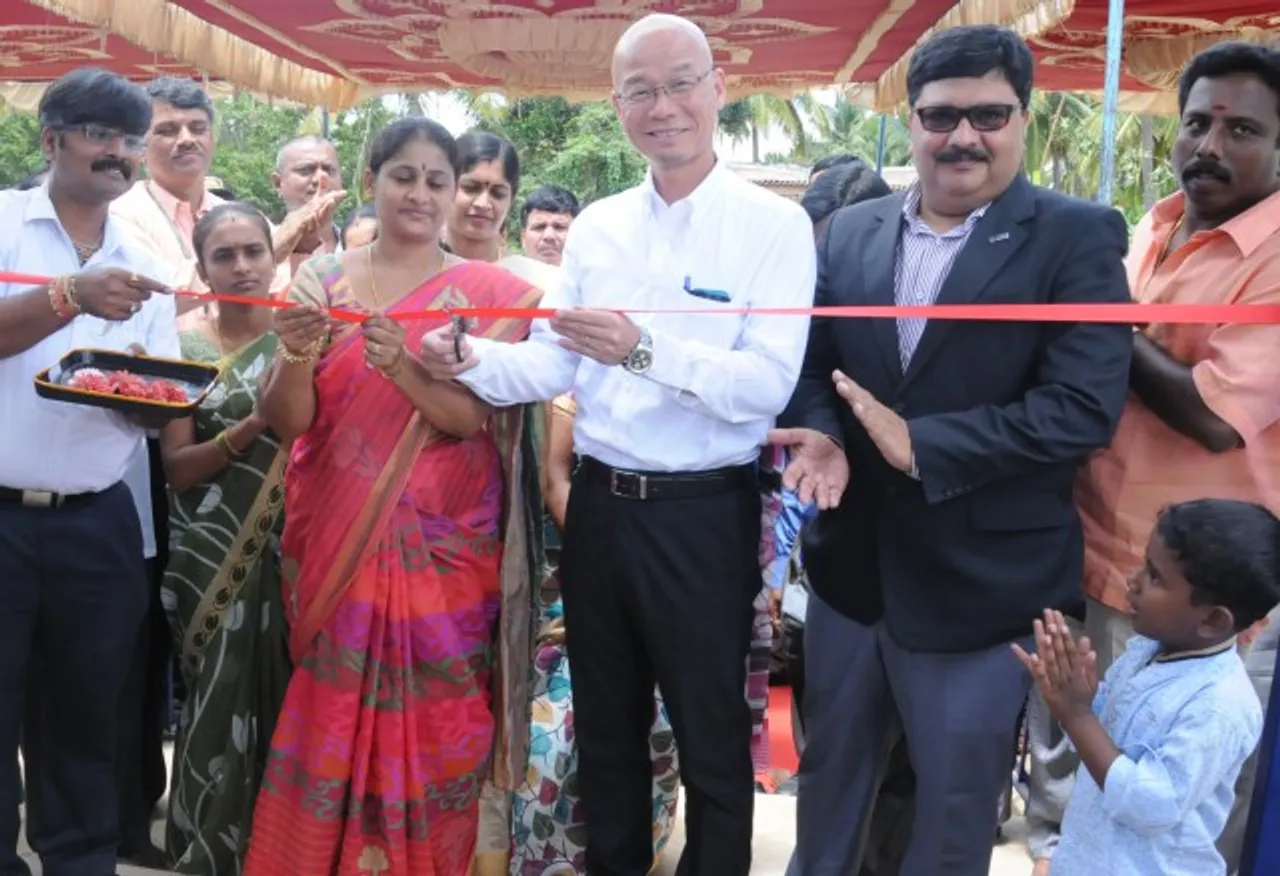 Bidadi (September 26, 2016): Toyota Kirloskar Motor recently announced the inauguration of its 10th Community based Water Purification Unit in Bidadi at Bychohalli as a continuation to the efforts of providing safe drinking water to the villages in Bidadi. With this, Toyota Kirloskar Motor has installed a total of 12 units at Byramangala, Ramanahalli, Bidadi, Manchanayakana halli, and Harohalli Grama Panchayats and one each in Varanasi and Vaishali to cater to the drinking water requirement of villages in Bidadi.
All the water purification units have a 1000 liter per hour capacity accompanied with a minimum 6-stage purification system has been benefitting over 96,000 villagers, covering 111 villages across India. Water analysis study conducted by Government authorized agencies had alarming revelations indicating that the TDS (Total Dissolved Solids) level of the water used for day-to-day activities are way above the normal limit of 500. Similarly the calcium and magnesium levels in these waters were also found to be above the desired limit.
This high level of contaminated water undergoes six step filtration processes with reverse osmosis technology and UV rays in the Water Purification Units established by Toyota Kirloskar Motor to deliver IS10500 standard potable water. TKM has also signed an agreement with Prajwala Karnataka Social Welfare Trust, a local non-profit that will maintain the unit for a period of 15 years. The NGO will carry out the day to day operations of the unit and comply with the IS10500 water standard. The users will be charged a nominal fee of Rs. 5/- for 20 liters of purified water, thus creating a sustainable model.
Akito Tachibana Managing Director, Toyota Kirloskar Motor said "Wherever we do business, it is our endeavor to strengthen the community we exist in. Our aim is to enrich the society with our CSR initiatives understanding and catering to the critical needs of the neighboring community. Water is one of the core essential and basic necessities. The increasing pollution level of the Byramangala lake and high contamination of the underwater, created serious threat to the access to safe and pure drinking water resulting in a high occurrence of skin diseases, arthritis, cholera, dysentery, diarrhea, etc.. As a good corporate citizen, ensuring the health, safety and hygiene of the neighboring villages through our CSR initiatives is of utmost importance to us.  With the establishment of the water purification units, there has been a drastic reduction in the water borne diseases in these areas".
"As a part of planning for the sustainable CSR program, we conduct need assessment study as a regular process building consensus with local community, involving all stakeholders and continuously monitoring the sustenance model established in the community."