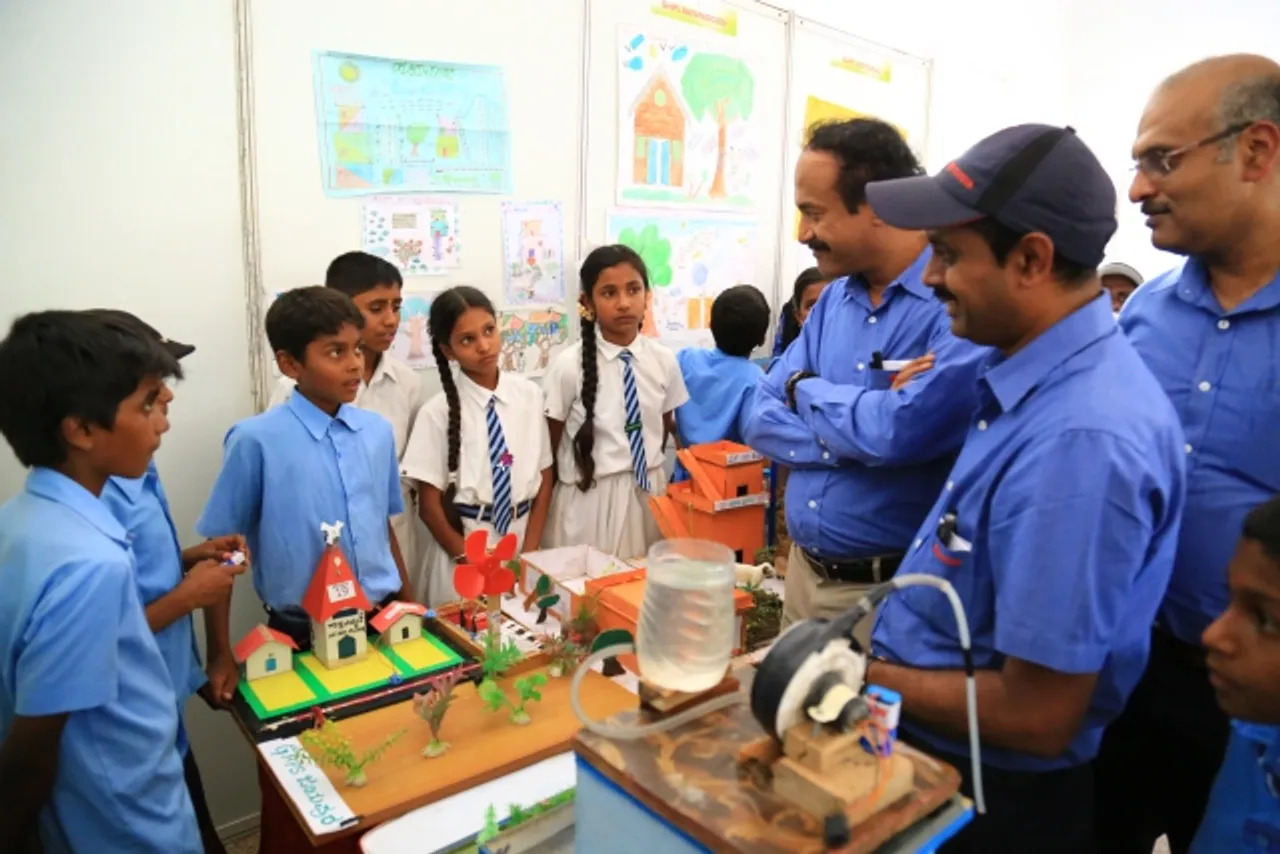 Bangalore (April 1, 2017):  Toyota Kirloskar Motor (TKM) celebrated the success of second phase of "Green Me Campaign" by rewarding and acknowledging the efforts of schools in the implementation of Green-Me program. Toyota in association with the Education Department, Ramanagara (Karnataka) had launched the second phase of "Green Me campaign" in the month of August 2016 across 30 Government Higher Primary Schools located in Ramanagara District. With the roll-out of Phase 2 Green Me Campaign, TKM has been working towards developing a positive eco mindset amongst 1100+ students across 30 schools located in the region.
The project collaboratively unifies School Children, Teachers and Toyota's Employee Volunteers under the company's green movement. This project aims at inculcating a positive attitude amongst the present & next generation through a specially designed curriculum and a training module for school teachers.  This holistic program also involves Toyota employees, who volunteered in the process of Green Me implementation by taking leadership in selecting appropriate schools, support schools in identifying the key environment challenges and design projects to address these concerns by dedicating their personal time and resources.  TKM also extends needed support to these schools by providing required materials for the project implementation at INR 15,000 per school.
The success of second phase of Green-me campaign was monitored by evaluating the effectiveness of the project and gaining expert inputs for way forward.  A mechanism called the "Star Rating" was introduced as an evaluation tool to create healthy competition and bring up the passion in implementing the eco-project among all stakeholders. The results were then analyzed along with Education Dept. and Toyota management to measure the effectiveness of the program. Around 17 Schools have achieved 3 star rating (on a rating scale starting from 1 – 4). Under this project, the future challenge is to achieve 4 stars by all the participating schools, as a part of the project sustenance plan.
For effective engagement, Toyota carried out several programs for a period of 8 months to involve various stakeholders to meet the objectives. Few prominent activities were carried out namely industrial exposure by displaying the various environmental practices adopted by Toyota, Eco-festival and awareness campaigns covering 30 villages, video shows at schools and communities across 30 villages.
With the launch of this project, Toyota has been working towards bringing significant changes in & around the school campus through establishment of best eco-practices such as Waste Segregation & Composting System, Kitchen Gardens, Afforestation in and around school premises, Waste Water Reuse System and so on at all 30 schools in Ramnagara region. Through this eco-model project, Toyota creates a strong platform for a continuous environmental drive in these schools & bring in a substantial behavioral change in the young minds & society as a whole.
The award event saw involvement from 250 students with Teachers, SDMC (School Development Management Committee) members, Education Department, Pollution Control Board Officials and the Karnataka Forest Department.
Sharing his views, Raju B Ketkale, Senior Vice President – Toyota Kirloskar Motor, said "We at Toyota Kirloskar Motor are committed towards nurturing tomorrow's eco-citizens of the nation. Our Green Me campaign is the first step towards achieving this objective.  In our pursuit towards achieving sustainability, Toyota is coming up with Eco zone - an outdoor environment learning center in 25 acres of land within the company premises at Bidadi.  The Eco zone is designed to develop children on identifying environment concerns around them and support in developing solutions. On this occasion, I would like to congratulate the students, teachers and Toyota volunteers who have been instrumental in meeting the desired results and achieve the drawn objectives under this campaign".
Green-me campaign educates the school children on the issues affecting the Environment to create needed consciousness and develop each one's commitment towards its conservation. A day during this campaign period begins with teacher and children at schools discussing current environment challenges in the morning assembly, measuring availability of water, diverting used water to kitchen gardens and tree plantation area, dispose wet waste into compost pit and proper storage of dry waste, observing the birds and insects visiting their garden and schools, learning about native plant species, and children have taken a step forward to educate their family and neighbors.