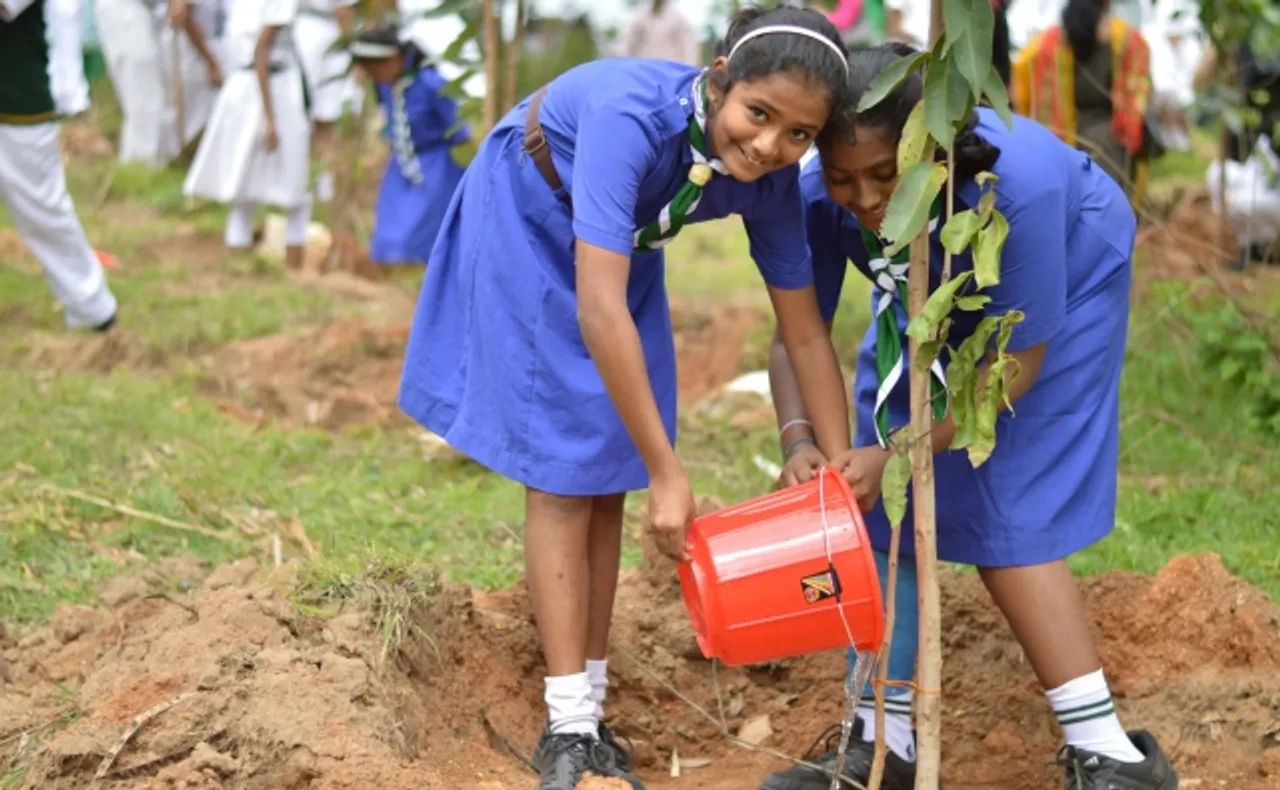 Toyota Kirloskar Motor Private Limited released its Seventh Annual Sustainability Report 2016 recently. With the theme 'Nurturing Inclusive Growth' the report this year highlights Toyota's committed efforts towards ensuring environmental, social and economic sustainability. According to the report, TKM has been working with all stakeholders towards achieving low carbon society, reduce dependency on energy resources, reduce water consumption, efficient waste management, highest customer satisfaction and safety standards in all their business operations.
The report highlights Toyota's Global Environmental Challenge 2050 and TKM's Sixth Five Year Environmental Action Plan towards Sustainability with primary focus on Zero Carbon emissions, minimization and optimization of water usage, establishing recycling based societal systems, and establishing a future society in harmony with nature. The company is working towards becoming a part of the solution to fundamental challenges, such as: Energy Security – Fuel Efficiency and Environment Protection and Safety – Technology Safe for both Human and Environment.
Toyota has been working to ensure optimization of their logistics operations at all stages to reduce CO2 emissions. To mitigate climate change, distance of travel for logistic operations has been reduced by identifying alternate shorter routes. Older vehicles have been replaced with new ones complying with BS IV norms.
The company has also been working towards reducing dependency on the grid power. As part of the initiative - the employees were made to identify, justify, and implement energy saving Kaizen. The future plan includes initiation of about 3MW of Solar Energy as a step towards self-sustainable energy system. The concept of 'Yosedome' – lean manufacturing, optimization of logistics, utilization of advances in technology, has resulted in 10% reduction in carbon emissions.
The water recycling & rainwater harvesting efforts at the manufacturing plant, ensures "Zero dependence on Freshwater/River water" thereby reducing water consumption by 34% in the overall plant operations. The existing rainwater harvesting pond storage has increased capacity from 25000 cubic meters to 35000 cubic meters making rainwater the primary source of water at the manufacturing plant. The installation collects roof water from the industrial shed. The collected water is then treated at water treatment plant and sent for production. The treatment of waste water for production process is also in place for TKM. The recycling process is carried out using a membrane bio-reactor and a reverse osmosis unit, ensuring there is Zero discharge outside plant, thus zero contamination of water bodies and the usage for freshwater only for domestic purpose.
Toyota has adopted the 3 R strategies (Reduce, Reuse and Recycle) for the appropriate disposal of waste. With efficient use of resources and reduction in waste generation, in-house sludge drying yard and vermicomposting facilities, there is a dip in Volatile Organic Compound emissions by 23% and Waste by 47% in the last five years. TKM has also developed a native forest integrated within its manufacturing plant by growing 2.65 lakh trees to enhance the biodiversity of the region surrounding its facility. With these results, TKM aims to take its sustainability goals a notch higher in its upcoming Sixth Five Year Action Plan.
The report further educates on TKM's CSR commitment and proactive measures initiated to campaign on Environment, Education, Road Safety, Skill Development, Traffic Safety, Health and Hygiene.  Toyota Kirloskar Motor initiated Swachh Bharat Swachh Vidyalaya – Girl Child Sanitation Program in schools in line with Prime Minister's Swacch Bharat Abhiyan. TKM conceptualized and implemented - Project ABCD 'A Behavioral Change Demonstration 'aimed at curbing one of the grave concerns faced by our country – Open Defecation. By the year 2016-17, TKM has set a target of 40 villages to become open defecation free in Karnataka and has been already successful in ensuring 100% sanitation in 27 villages. More than 1 lakh village population have been trained on sanitation through this program and motivated to construct household toilets. To inculcate a positive attitude amongst the next generation towards environmental sustenance, Toyota in association with the Centre of Education rolled out the "Green-me" campaign aimed to create eco-conscious minds amongst school children. The company installed a total of 12 water purification units at Byramangala, Ramanahalli, Bidadi, Manchanayakana halli, and Harohalli Grama Panchayats and one each in Varanasi and Vaishali contributing towards 83% reduction of water borne diseases.
With an aim to curtail carbon footprint and provide a favorable habitat for the growth of native species, Toyota organized a reforestation drive and planted about 500 saplings at the Bannerghatta National Park along with school children.
Additionally, the Toyota Technical Training Institute (TTTI) has been selected for the "Manufacturing Skill Transfer Promotion Programme", aimed at enhancing the manufacturing base of India and contribute to "Make in India" and "Skill India," through training 30,000 persons over next 10 years with Japanese style manufacturing skills and practices under the MoC signed bythe Ministry of Economy, Trade and Industry, Government of Japan (METI) and Ministry of Skill Development and Entrepreneurship, Government of India (MSDE).
Stakeholder engagement, continuous improvement at all stages of supply chain, training and development of key stakeholders and evolutionary stages of the product lifecycle accompanied by stories of change constitute the integral part of the report.
Raju B Ketkale, Senior Vice President of Toyota Kirloskar Motor and Chief Editor of the report said "We are happy to launch our Seventh Sustainability Report for the FY 2016. Through this report we would like to showcase TKM's commitment towards co-creation of shared values involving all its stakeholders. Further, the report recapitulates TKM's initiatives towards sustainable business practices in Economic, Social and Environmental aspects with consistent support from all stakeholders. With the major milestones achieved this year we are all geared up to take up much more competitive challenges in sustainability growth of People, Planet and Profits ".
To view and download Toyota Kirloskar Motor Private Limited Company's Sustainability report 2016, visit www.toyotabharat.com/environment/sustain-report/2016/