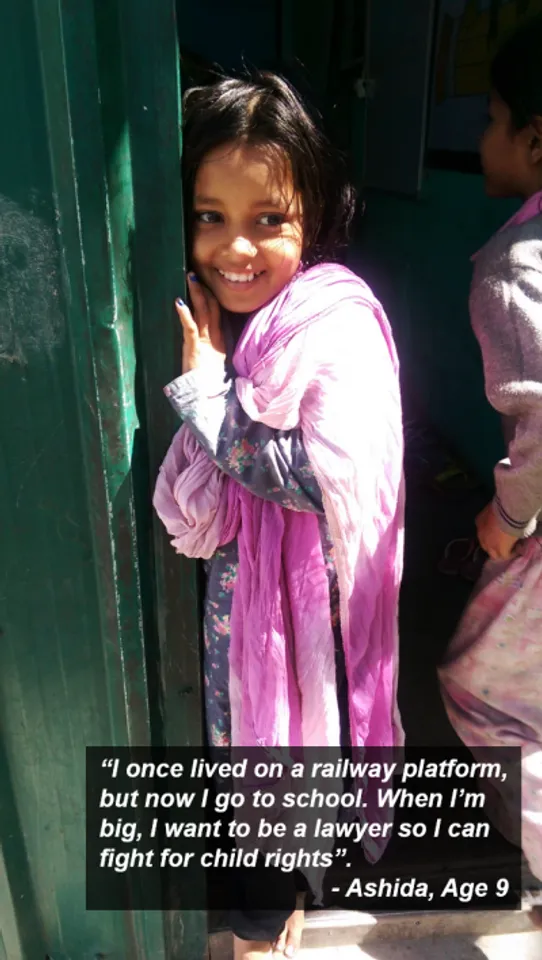 With June 26th marking the International Day against Drug Abuse and Illicit Trafficking, Plan India shares this story on how the organization has been working to end injustice and create safer communities so millions of children can thrive and achieve their dreams.
A routine round of a bustling railway station in Delhi led Plan India and partner SPYM to a nervous little girl begging on a platform. Her name was Ashida and she was five years old. Today, four years later, she is the life and joy of the shelter for children where she lives surrounded by friends and caregivers. This is her story.
Until she was five, Ashida lived in a makeshift hut of thrown-together blankets. Born to heroine addicted parents, little Ashida earned a living begging on a railway platform in Delhi. All day she'd follow strangers hoping for a handout, or wait listlessly, hoping her parents would show up to take her home. Most times, they did.
Then one day, Plan India and its partner SPYM found little Ashida at the station during their rounds. A fragile, doe-eyed waif in tattered clothing, she immediately caught their attention.
The team swung swiftly into action, identifying her parents and counselling them repeatedly to ensure Ashida received the care and support she needed. Eventually, they agreed together with the Delhi Child Welfare Committee, to place her in custody of the Plan India-SPYM shelter for children in difficult circumstances. This was four years ago.
Today, Ashida is one among 47 children at the shelter, most of whom are between five and fourteen years of age. She now goes to school, has learned to read and write, and even teaches the younger children how. She is an avid artist and can boast of an enviable collection of papier mâché flowers she has made all by herself. An affectionate and thoughtful child, Ashida has won many friends in her time at the shelter. "All of us kids, the didis who look after us, the ones who visit us from Plan… We're one big, happy family."
Says seven-year old Ruhi and Ashida's closest friend, "She is the best at everything! Since she moved here, we always wait for her to start our evening lessons and games. She reads me my favourite stories."
Ashida may be shy on the first meeting, but it isn't long before she's talking up a storm and admonishing those who don't pay proper attention! This includes her parents.
With support from Plan India and SPYM, Ashida's father has been in a rehabilitation programme for three months and her mother is gainfully employed. They visit her from time to time and are proud of the bright young girl she has blossomed into.
"When I grow up, I will be a lawyer", she says with a confident nod. "That way, I can fight for the rights of children like me and make the world a better place."
At nine years old, Ashida lives her life with a joy, wisdom and determination well beyond her years. With a little help, who's to say the mountains she'll move and the journeys she'll take. Lucky for us, we get to go along for the ride.
Plan India
, a member of Plan International Federation, is a nationally registered independent child development organisation committed to creating a lasting impact in the lives of vulnerable and excluded children, their families and communities. For over 35 years, Plan India and its partners have improved the lives of millions of children by providing them access to protection, basic education, proper healthcare, a healthy environment, livelihood opportunities and participation in decisions which affect their lives.