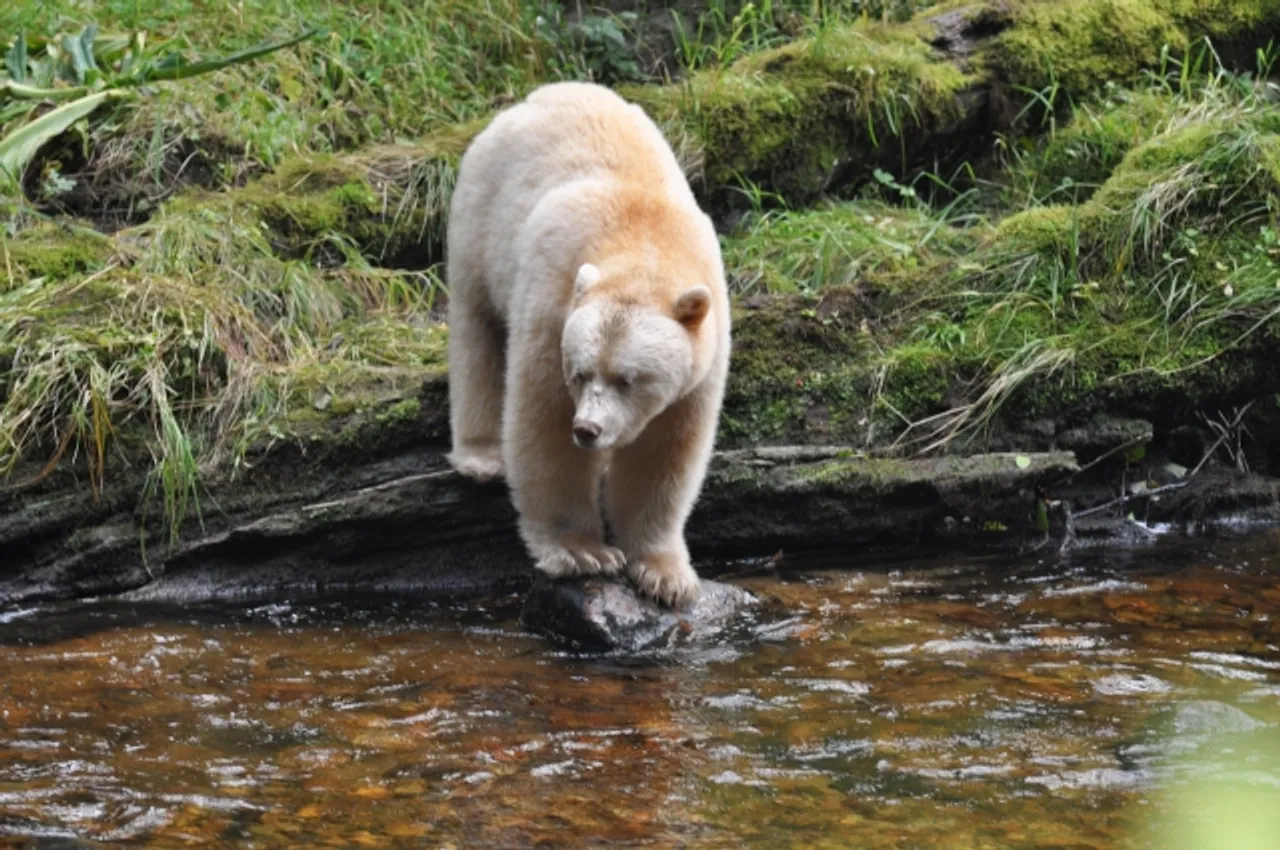 The Great Bear Rainforest on Canada's Pacific coast is "one of the jewels of nature left on this planet", according to Kai Andersch, CEO of Wilderness International, a non-profit conservation group that works to protect wilderness areas. It has some of the tallest and oldest trees in the world – 1,000 years old in some case – plus wolves, cougars and, of course, bears. It also sits alongside an "extremely rich marine ecosystem" that is "very much linked ecologically to the forest", Andersch says.
Nevertheless, the British Columbia provincial government had over time granted concessions to logging companies that were eating their way into the forest. This was resulting in extraction of "unsustainable levels of resources from lands of indigenous peoples" who do not support the logging, says Valerie Langer, director of British Columbia campaigns for conservation group ForestEthics.
In the mid-1990s, environmental groups took a stand. This led first to five years of "pitted conflict" with logging companies, Langer says. These evolved into campaigns that targeted the logging companies' customers, successfully persuading them to suspend their contracts. Then finally, a "stand still agreement" was reached, and ultimately a partnership in which NGOs and companies worked together to study the forest ecosystem and identify how it could best be protected.
First Nations conflict
At the same time, Langer says, some of Canada's "First Nations were in conflict with the province over who had the rights to make land-use decisions." Ultimately, the First Nations were brought into the partnership and a deal to protect the forest was worked out.
The result, announced in February by NGOs involved in the process – Greenpeace, ForestEthics and the Sierra Club – to great fanfare, is the Great Bear Rainforest Agreement. The deal protects 85% of the forest from logging, improves monitoring and secures the rights of indigenous peoples. It is a "true team effort", according to Greenpeace.
Jeff Zweig, CEO of Vancouver-based TimberWest, one of the companies involved in the deal, said the agreement was a "wonderful example of what is possible when we work together as good neighbours and responsible stewards, to resolve matters of social, environmental and economic importance for today, and for future generations."
NGO mini-spat
But not everyone is happy. The deal has led to some tension among campaign groups, with Andersch from Wilderness International, and others, such as Pacific Wild, saying that Greenpeace and its partners have not achieved what they might have done.
Andersch has three main complaints: that the figure of 85% of the forest protected is an exaggeration; that some of the most ecologically valuable forest is outside the protection agreement; and, that the agreement has nothing to say about marine protection, which he considers a vital complement to conservation of the forest.
Essentially, more should have been protected, and with tighter controls, according to Andersch. Hunting of bears within protected areas will not be stopped. However he says that after 20 years of conflict and negotiations, "I can totally understand from the point of view of the three largest NGOs that they needed some sort of closure."
There was a real sense of urgency. While talks were going on, logging was taking place and forestry companies were making plans to log areas that were under consideration for protection, says Eduardo Sousa of Greenpeace. "We were also under pressure due to resource limitations," he adds.
A blueprint?
In the end, it is a matter of judgement whether the deal was sufficient, or if the NGOs should have or could have held out for more. Langer insists that the deal does cover 85% of the forest with one form of protection or another. The agreement's provisions "legally require that 3.1m hectares of forest be left to simply grow older", and the agreement will "protect the ecological integrity of this wonderful forest region" while maintaining a "viable forest economy", she says.
Langer believes that the agreement could be a model for the future. The main elements are that there needs to be funding and a mandate for science as the basis for decisions; local people must be included in the process; parties must look for areas of common interest; and, new legal tools and designations may be necessary to take account of indigenous interests.
Originally published on Innovation Forum
Innovation Forum produces high level events and analysis around sustainability trends and opportunities for business. With over 30 years' experience in the sustainability space the Innovation Forum team has developed an extensive readership and broad network of senior CR and sustainability professionals, along with strong ties to companies, NGOs, academics, governmental officials and the media operating in the sector.