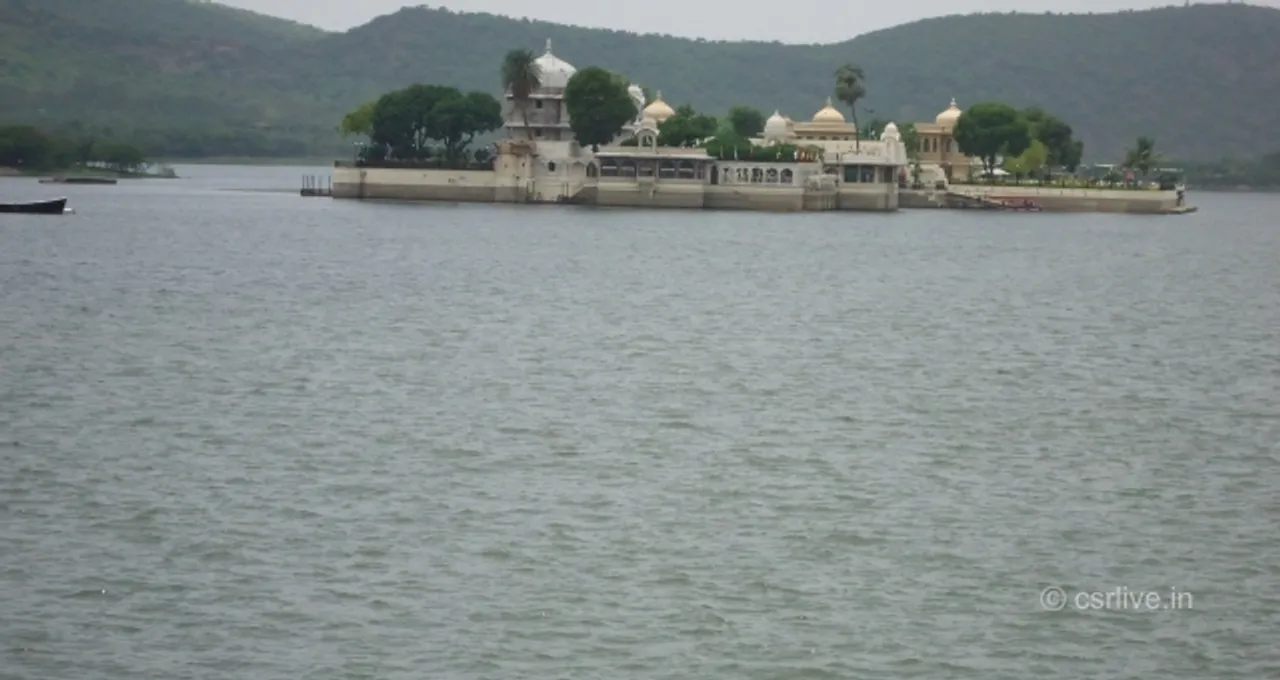 An example of how citizens and people's organisation can play a critical role in the governance of a city.
Hundreds of years ago, a king decided to do something about his water scarce kingdom. Studying the topography of the region, he and subsequent kings built a network of hundred-odd lakes. These lakes were fed by rainfall and streams in the catchment areas surrounding the city. Since then, the lakes have supplied the region with much needed water for drinking, agriculture and industries and also helped survive many droughts which kept recurring in this arid region. This city of Udaipur is now known in the international tourist circuit for its beautiful lakes and palaces.
Let's come to the current times. Many of these lakes have dried up, many have shrunk and many are now covered by water hyacinths. The four main lakes which form the key attractions of the city and provide employment to 60% of the city's population due to tourism, have now become the dumping area for untreated wastes, effluents and toxins from industries, and garbage from hotels etc. Leaking sewer pipes passing below many of these lakes and carrying untreated sewage continue to mix with the lakes' water. As a result, aquatic life has reduced drastically on one hand, while on the other, water-related critical health issues (typhoid, gastroenteritis, colitis, hepatitis etc.) have become quite common for people living in the city. Many of the catchment areas which supplied water to the lakes are highly degraded due to encroachment and deforestation. In one such catchment area, slurry from the marble industry is dumped beyond permissible limit, polluting not only the city's air but also the lakes' water. The embankments of the lakes, critical habitat for birds and other organisms and an eco-system of its own, are under the threat of encroachment by people with vested interests. Ground water, which supplies the city with most of its drinking water has also been contaminated badly. In fact, most lakes are now in an advanced state of eutrophication and are polluted heavily to the point of irreparable degeneration.
The state of the city's lakes and the lack of an effective water management system encouraged a few like-minded people to join hands. The Jheel Sanrakshan Samiti (JSS) was thus born in 1992, growing to become one of the strongest voices in lake conservation in the state as well as the country. This People's Organisation's initial task was to study the hydrology, ecology, limnology, climatic, morphometric and other factors which sustained this lakes-system, the reasons behind their degeneration, and the governmental policies or the lack of them which affected its proper management. Over the years, JSS has been instrumental in providing integrated management solutions for conservation and sustenance of the entire lakes-system including detailed plans for catchment area conservation, identifying sewer leakage points and cleaning up of the lakes, augmentation of water in the smaller dried up lakes, preparing master plans for all lakes showing critical polluting points, providing bio-agents to tackle the growth of hyacinths and other aquatic weeds on the lakes, and also creating awareness amongst the citizens on these issues.
To implement these plans, it was therefore necessary to bring about policy changes. Through its strong advocacy efforts and petitions, they have been able to move the state government to sanction water shed projects, build feeder canals to bring rainwater to Fatehsagar Lake, stop development of industries in the catchment areas of the city's lakes, mark high flood levels of lakes, declare no-construction zones around the lakes, and lay sewer lines around the lakes instead of below them. JSS was successful in campaigning for the establishment of a Lake Development Authority which integrated the cooperation and accountability of various agencies involved in the management of the lakes. JSS also developed the Lake Conservation Plan and ensured that the government allocated adequate budget for its execution.
Green Bridge Technology developed by Shristi Eco Research Institute (SERI) has been used to clean up Ahar River (Image credit: Eddie Joe)
However, one of JSS's critical successes has been the cleaning up of parts of the highly polluted Ahar River using a strong partnership model involving labour and donations from village communities, volunteers, government departments and corporates. Ahar River which feeds the Udai Sagar Lake had become so toxic with industrial waste that there was no aquatic life in the river and it was covered with chemical foam several feet high, polluting even the groundwater. JSS used the Green Bridge Technology developed by Shristi Eco Research Institute (SERI), a Pune based company, to clean 700 mtrs of the river before it reached the lake. This simple technology used microbiology and natural methods to filter out solid waste, metal deposits, and toxins. Inverted-V shaped stone structures were built across the given length, layered with cloth made of coconut husk, a mix of microbes and bio-chemical solution and covered again with coconut husk. Cannas and other plants were planted on both banks which acted as a natural sponge for sewage.
Within two months, the dissolved oxygen rose from nil to 6.9ppm, acidity levels decreased from ph level 10 to 8, and fecal coliforms decreased by 80%. The river saw a return of aquatic life, birds and animals and reduction in groundwater contamination.
Jheel Sanrakshan Samiti is one of the best examples of how citizens can play an active role in the governance of any city and the huge changes a few passionate and focussed people can bring. JSS does not accept donations; the members of the organisation have been working voluntarily and self-financing all their work for more than 20 years now.
Bipasha Majumder shifted to the social sector after working in advertising and media for a decade. She loves traveling to the grassroot, talking to the communities, understanding their issues first hand and writing about her experiences. Currently she works as an environmental researcher, and content and documentation specialist for various NGOs and CSR projects.