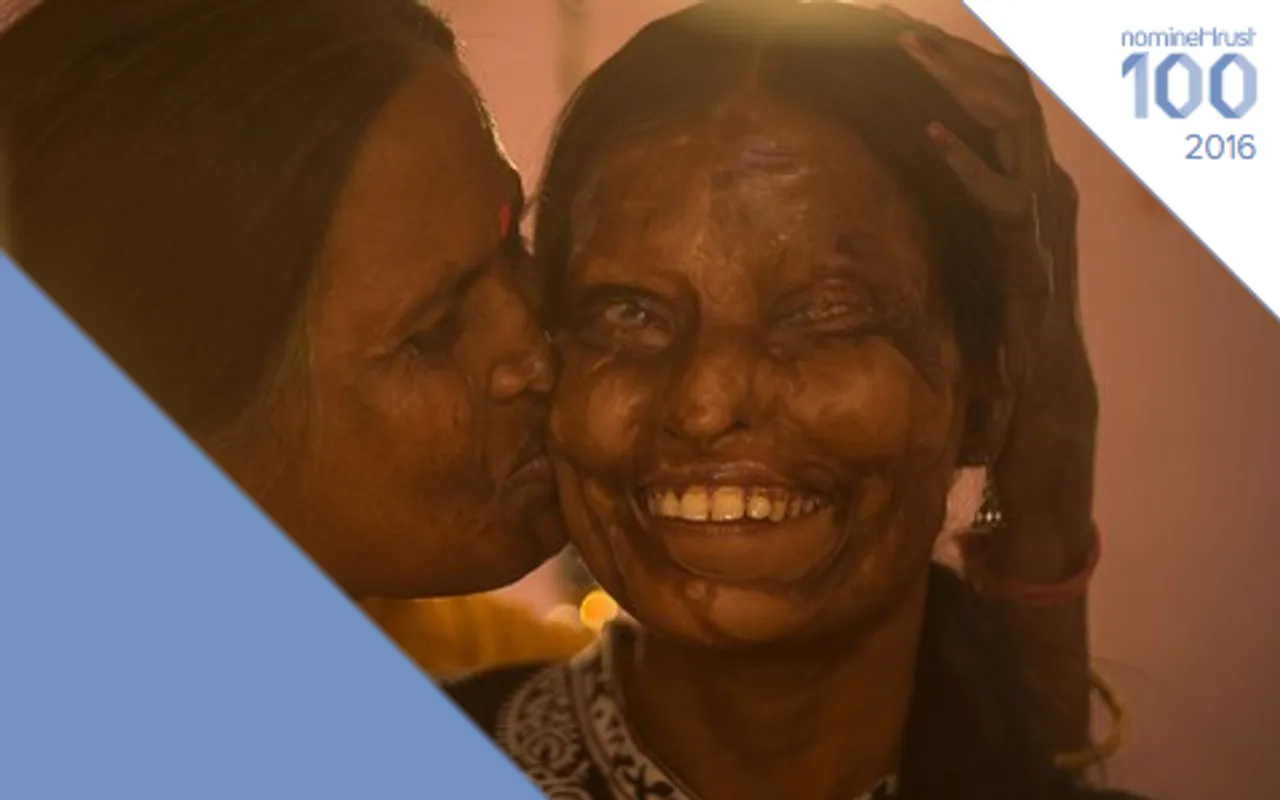 London (December 14, 2016): Over one third of the projects in the 2016 NT100 revealed today by Nominet Trust – the UK's leading tech for good funder – are inspired by people who have a personal connection to the challenges they are tackling with digital tech. Motivated by a desire to disturb the status quo for the greater good, this year's Everyday Tech Heroes include individuals tackling everything from local injustices to issues that affect us all as a global community.
Here are just some of the amazing NT100 projects created by inspirational Everyday Tech Heroes:
Transforming local communities
Some of the most pressing issues we face are invisible to the global community because they occur at a local level. The power to change this is in the hands of those on the ground and examples of individuals taking matters into their own hands have been plentiful:
Massoud Hassani grew up on the edge of Kabul during the Soviet-Afghan war in which 10 million landmines were planted. Worldwide, it is estimated that there are 100 million active land mines and 79% of their victims are innocent civilians. Having resettled in Holland where he studied Industrial Design, Massoud wanted to apply his skills to help remove the landmines in his native land. This passion led him to create Mine Kafon Drone – an unmanned modular airborne robotic demining system that maps, detects and detonates land mines safely. With support from the Dutch Ministry of Defence, Mine Kafon Drone is now being optimised to safely and effectively operate across war-torn terrain.
Agriculture contributes 24% of Kenya's GDP and provides employment for over 80% of the country's population. However, the country's 6.5 million small-holder farmers face a number of environmental challenges such as flooding and drought, which leads to food shortages, forcing the government to intervene with food aid. Everyday Tech Heroes, Brian Bett and TaitaNg'etich, learnt this the hard way when a flood destroyed their tomato farm. The pair went on to build themselves a greenhouse equipped with irrigation technology and sensors to monitor temperature, humidity and soil moisture. Today, at least 750 Kenyan farmers now use their smart farming technology –Illuminum Greenhouses.
In India, Laxmi Agarwal was the victim of an horrific acid attack by a spurned suitor at the age of 15. Laxmi went on to establish the Stop Acid Attacks campaign in 2013 and has since been raising awareness about the issue using India's burgeoning digital culture to her advantage. Laxmi now works with her team campaigning to ban acid sales and improve legislation around this issue, while supporting survivors who have chosen to speak out.
Social inclusion
The World Health Organisation estimate that over 65 million people need a wheelchair to live an independent life, yet 80% do not have access to one that meets their needs due to the cost of customisation. Rachael Wallach was just 18 when an injury left her with impaired mobility but luckily received a grant from the Snowdon Trust to buy a lightweight wheelchair. Recognising that others were less fortunate, Rachael established Disrupt Disability to bring together a nascent community of makers. This virtual community is working together to build the first online library of free, open-source designs that can be easily adapted to produce customised, low-cost, 3D-printed wheelchairs, giving equality of opportunity for freedom and independence.
Another hugely inspiring project is the South-West Open Youth Orchestra (SWOYO). Bradley Warwick's biggest dream was to perform in an orchestra, but his cerebral palsy made this seemingly impossible. In 2015, OpenUpMusic launched the SWOYO– the UK's only disabled-led regional youth orchestra. Using cutting-edge digital technology developed by OpenUp Music, Bradley can now use his eyes to play aspecially adapted instrument alongside other young people in the orchestra.
Lise Pape's father was diagnosed with Parkinson's Disease ten years ago. Having suffered severe side effects from prescription medication, her father then started to experience Freezing of Gait (FoG) a sudden inability to move where the feet feel as if they are glued to the floor, which can result in dangerous falls.One in three people aged 65 or over experience a fall each year; Lise set out to find a way to help them and her father. While studying for a Masters in Innovation Design Engineering in London, she discovered that visual cues can help trigger movement during 'FoG' by focusing the person's attention. Lise went on to create two products; Path Finder, which emits a laser beam to encourage movement; and Path Feel, ashoe insole that helps wearers to feel the floor better by providing active feedback.
Humanitarian response
There are approximately 60 million displaced people around the world. Moreover, with a severe lack in critical post-disaster supplies, up to $100 billion is spent responding to crises every year. Aid buyers face a constant battle with a slow procurement process and often need to compare at least three quotes to satisfy audit guidelines. Stephanie Cox experienced this frustration first-hand during the Ebola Crisis when her search for water filters kept coming up empty. This led her to develop 'The Level Market' (TLM) to provide 'Amazon-like' services adapted to aid workers' needs, helping to reduce response times during crises. TLM allows buyers to compare products directly, and receive custom pricing and delivery quotes using one form, rather than making multiple enquiries.
When Médecins Sans Frontières (MSF) responded to a major outbreak of measles in the Democratic Republic of Congo in 2015, they sent in hundreds of vaccination teams to cover such a huge area of land. However, their work was disrupted by hours spent navigating difficult terrain and trying to locate those in need. Motivated by this challenge, MSF's Peter Masters created the Missing Maps project to help the doctors identify areas with vulnerable populations that aren't always visible using tools such as Google Maps. Using satellite images from OpenStreetMap, Peter and his team developed MapSwipe – an app that allows anyone with a smartphone or tablet to scan thousands of satellite images of unmapped areas and tap once if they see roads or buildings, twice if they are unsure and three times if the area is not visible due to cloud coverage. The app has already been downloaded 9,000 times and has 7,000 active users who have already surveyed over 420,000 km of imagery.
Vicki Hearn, Director of Nominet Trust, commented: "Digital technology is now accessible to more people in more locations and in more ways than ever before. These innovative projects created by our Everyday Tech Heroes are testament to that and demonstrate how powerful social tech can be in tackling a wide breadth of issues regardless of magnitude, geography or budget. NT100 gives these pioneers the platform to inspire others to address inequality, making the world a better place for everyone." 
Source:
MySocialGoodNews.com
as part of CSRlive's collaboration with
Your Mark On The World