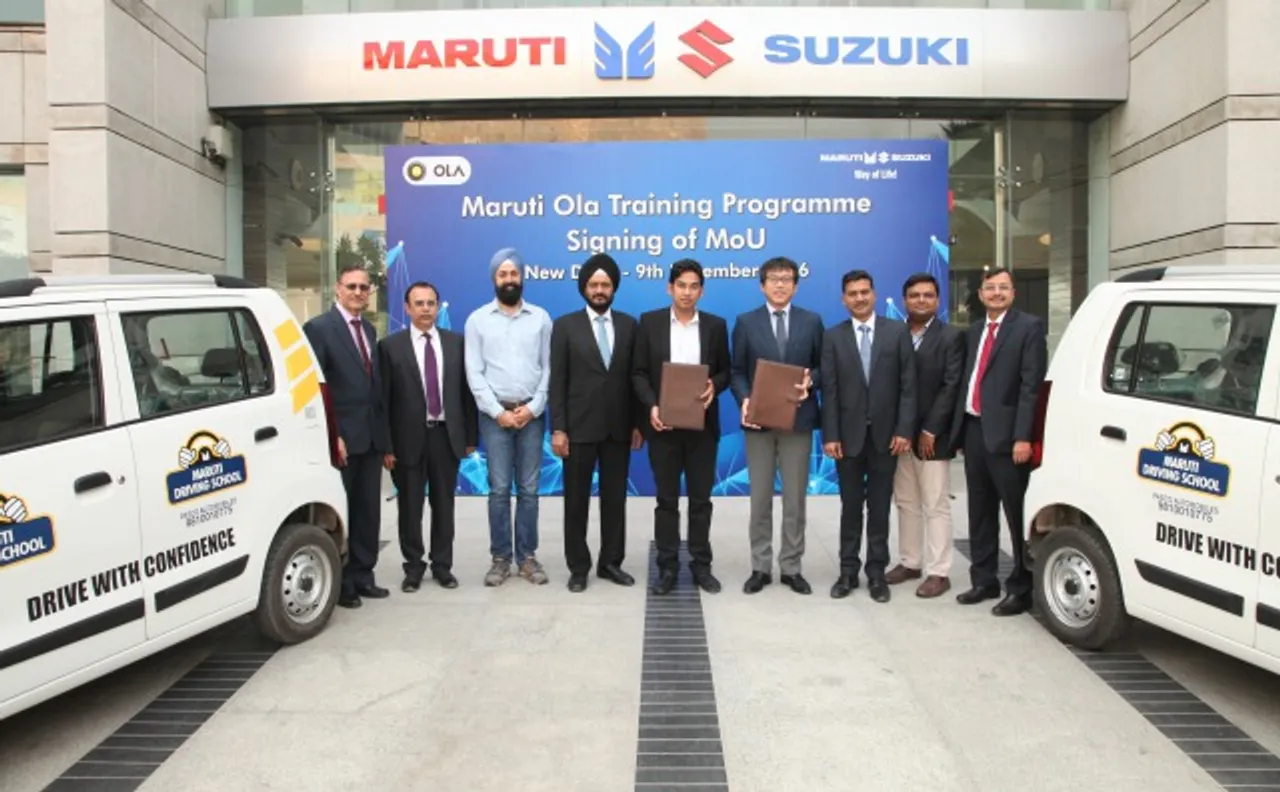 New Delhi (December 09, 2016): Maruti Suzuki India Limited (MSIL) signed a Memorandum of Understanding with Ola, the online cab aggregator, to train aspiring drivers-partners. Under the 'Maruti Ola Training Program', the Company targets to benefit 40,000 individuals/Ola partner-drivers in safe driving, over a period of 3 years.
Maruti Suzuki and Ola partnership aims to create entrepreneurship opportunities for aspiring drivers-partners as well as make urban transportation safe, reliable and convenient. The pilot phase of the initiative will be rolled out in Bangalore, Hyderabad, Chennai and in NCR. The driving training programme will be gradually rolled out in Mumbai, Ahmedabad and Pune.
Ola, as a technology platform will help create opportunities for these trained drivers by giving them access to infrastructure, financing and continuous revenue. Over the last 5 years, Ola has been successful in on-boarding over 5 lakh skilled driver-partners onto its platform.
Commenting on the association, R S Kalsi, Executive Director, Marketing & Sales, Maruti Suzuki, said, "Maruti Suzuki is committed to promote quality driving training in the country. Studies show that 'driver's fault' is the biggest reason of road accidents. We have evolved a comprehensive training program comprising simulators, theory and practical sessions, imparted through 370 Maruti Driving Schools and six IDTRs across India. The curriculum, besides driving skills, offers soft skills like grooming, manners, etiquette that develop a positive attitude among the drivers. We are glad that through this partnership with Ola, we will be able to expand quality driving training while creating opportunities for employment and entrepreneurship. . We target to train 40,000 individuals over 3 years."
Pranay Jivrajka, Chief Operating Officer, Ola said, "Mobility in India is a huge need and the industry has the potential to empower aspiring individuals from all walks of life to become micro-entrepreneurs. This partnership falls in line with Ola's goal of skilling 5 million drivers in the next 5 years and continue to build a conducive ecosystem for them to grow as entrepreneurs. We are delighted to work with a trusted Indian brand like Maruti to create a unique solution to skill tens of thousands of aspiring driver-entrepreneurs realize their dreams. This is yet another initiative from Ola towards creating a robust and balanced driver ecosystem; which is vital to realize our mission of creating mobility for a billion Indians."
According to the MoU, Maruti Suzuki would help the individuals/Ola partner-drivers obtain commercial license and also assist in availing vehicle financing to purchase their own car, after the completion of their course. Ola will also provide qualified leads of potential driver-partners to Maruti Suzuki for facilitating them with commercial driving training.
All the aspiring drivers will undergo a 30-day driving training which includes a pre- and post- assessment tests to gauge the driving skills of these individuals.
The classroom sessions will familiarize the trainee with basic requirements such as vehicle controls & mechanisms, road signage, rules and markings, driving in difficult conditions, maintenance & fuel efficiency tips and traffic laws. Besides these dedicated sessions on soft skills like being a good road user, interactive case studies on the effect of bad driving habits, the importance of positive attitude, grooming tips, etiquettes and good manners are imparted to instil safe driving habits and become a responsible driver.
The practical training sessions will cover intensive training on safe and efficient driving, pre-checks before starting to drive, risk perception, defensive driving techniques, driving in difficult conditions, rules of the road and emergency handling.
Ola has been working closely with multiple state governments to create a skilled workforce that has access to capital, insurance and vehicle at discounted prices. Ola aims to add 50 Lakh driver-partners on its platform by 2022 by mobilizing, training and engaging with aspirants through such partnerships.