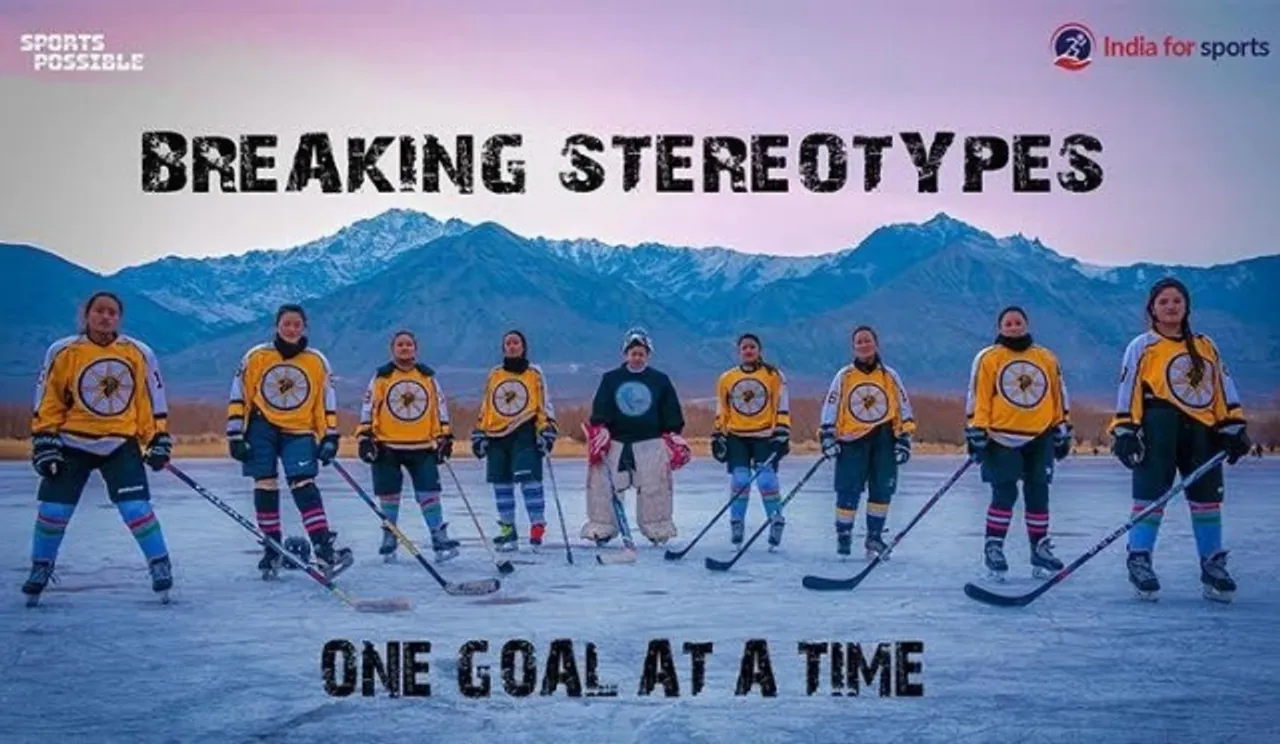 Do you know that India has an all women's ice hockey team? We may not be aware that Ice Hockey is played in India as this sport might not be a subject of many dinner table conversations. But, in a corner located in the Himalayan mountain range, there are a group of girls devoted to the 'other' hockey played on ice.
Skating on a frozen pond in Gupuks, Leh, in the middle of Himalayas, and the mountain range glowing behind, you will find an all women team who found their passion in this unconventional sport. These women have proved they love this sport too much to give up. For them, ice hockey is what gully cricket is for the rest of the country.
Earlier they used to play for the love of the game with no rewards to show but now there is something more.
Last year, the team went on to participate for the first time in an international competition in Chinese Taipei. Even though they returned from the 2016 IIHF Challenge Cup of Asia without a win, there were many positives. This relatively young Indian team came close to beating Malaysia in the group stages, and Noor Jahan was even awarded the tournament's Best Goaltender Award after saving 193 shots from a possible 229.
But, this achievement has not been easy. Without funds, a proper rink, or training equipment, they have battled many hardships.
Last year, the girls prepared an ice rink on their own. They would fill buckets, and the frozen pool from 8 PM to 3 AM in groups of four. Even a small amount of water that splashed on their clothes would freeze. While even thinking of being out at this time in the Himalayas would normally give us the chills, these girls were determined not to let any obstacles thaw their grit and ambitions.
Another problem has been the lack of funding, which has affected their growth. To receive funding from the government, the sport needs 75% affiliate member states, which is difficult at the moment. There is an artificial rink in Dehradun, but with no caretaker or money to maintain it, it lies neglected.
Amidst all these challenges, what the girls have is the determination to succeed. An example being Stanzin Chotso, who is the youngest player on the team. Last year when the team went to Chinese Taipei, she was supposed to appear for her board exams. But the 17-year-old decided to skip her Class 10 exams and join the team in what was their first international competition! In a country which weighs its educational aspirations before other things, Chotso's decision to forego her board exams only shows the importance that this sport holds in her heart and the belief that she has in it. Semzes Dolma will appear for her 12 standard board exams next year, but that has not lessened her passion towards the game.
With their future at stake, the Ice Hockey Association of India has been trying to build an ice hockey culture amongst the next generation. More importantly, to get recognition to build the winter sports future in our country, to create more sporting opportunities for women, break stereotypes and to build more platforms for unconventional sports. Apart from Ice Hockey, the team's best players Rinchen Dolma, Kunzes Angmo, Disket Angmo also excel in speed skating at national and international levels.
To back the team up Ice Hockey Association of India started online campaign at Ketto. The campaign has already raised approx. INR 14 lakhs and immense support from influential people including Bollywood Actor Kunal Kapoor. To support and contribute to the campaign visit here.