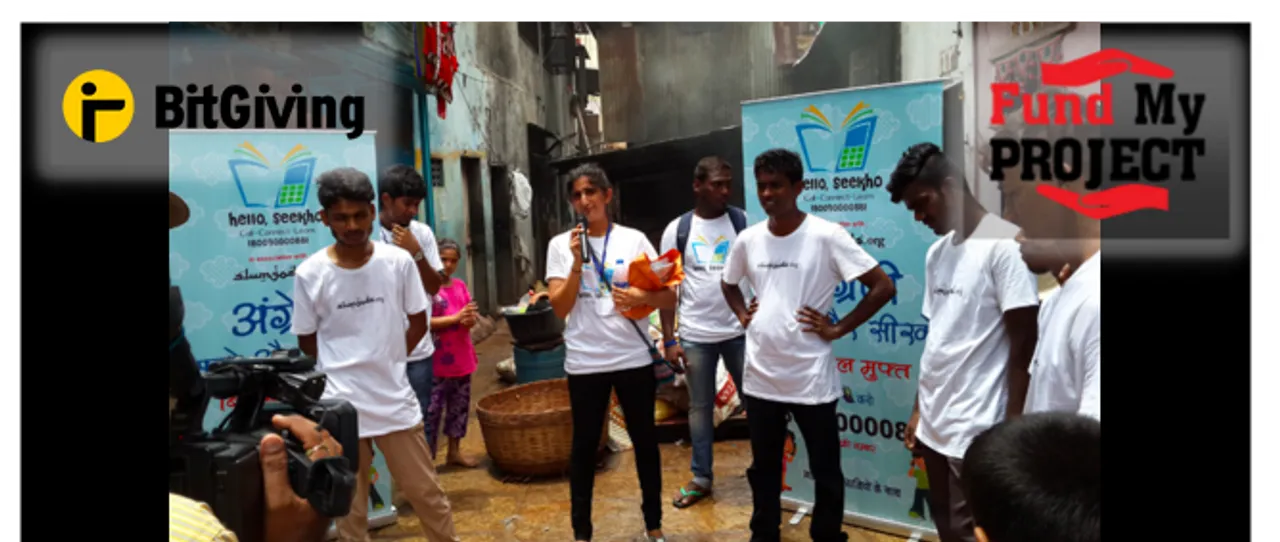 Here's how your CSR Funding can give a boost to one of the fastest ways for students from slums to improve their English skills, to spark their potential and passion for learning, and boost their self-confidence - audio lessons via a free phone call!
This cause is featured on Fund My Project as part of CSRlive.in's collaboration with BitGiving.com
Project by: Hello, Seekho
Category: Eligible CSR activity as per Companies Act 2013, Schedule VII
(ii) promoting education, including special education and employment enhancing vocation skills especially among children, …
What is Hello, Seekho ?! 
"Kash mein aapko apne sath ghar le ja sakti. Phir aap har roz English homework mein meri help kar sakte."
(I wish I could take you home with me – then you could help me with my English homework everyday)
-- Neelam (aged 12) a student at the Arpana Trust, a non-profit educating children from slums in New Delhi, India
Neelam is not alone in her struggle to learn without a support network at home. One of the biggest challenges faced by students in India is the quality of public school education.
Hello, Seekho (seekho means "learn" in Hindi) is our vision for a comprehensive solution to these problems, and one of the fastest ways for students like Neelam to improve their English skills, to spark their potential and passion for learning, and boost their self-confidence.
Hello, Seekho is a learning tool that provides free audio lessons through the extensive reach of mobile phones in India to supplement government school education. Hello, Seekho's comprehensive curriculum is created by teachers with experience in curriculum development in leading schools in India, and has been vetted by educational consultants.
Why Us?
We began Hello, Seekho during our sophomore year at Princeton University after realising that we shared a similar passion for improving access to English education in India. Last November, we sat in a froyo cafe in Princeton, past closing hours, and listed all the problems in India that we wanted to solve. We picked education because we both felt it had the most long-lasting impact, and so Hello, Seekho was born.
Our native fluency in Hindi, connections with local non-profits, experience teaching and developing curriculum, enthusiasm from the success of our pilot, and finally, our determination to close the education gap in India are the colours with which we plan to paint a brighter future for students in India.
What have we done so far?
After $15,000 of funding from competition at Princeton University, we launch a pilot in 4 slum colonies in 2014 and we launched in Dharavi in 2015. Here's a snapshot of where we are now!
Future Steps
Having launched a successful pilot, our next steps are to analyze the data, conduct an impact evaluation and expand our curriculum and our reach. In the long term, Hello, Seekho aims to expand its services to appeal to all types of learners – students attending private schools, students attending government schools, adult learners and those who prefer auditory learning. Hello, Seekho's ultimate goal is to be an indispensable audio resource to every kind of learner.
What Next?
We still have a long way to go, and many students to reach, but students like Neelam are our founding and continuous inspiration.
Your Contributions will help us in the following ways: Rs. 700 (approx. US$10) will fund 637 minutes of free learning time. Rs. 7,000 (approx. US$100) will help in fund creation and recording of audio lessons. Rs. 33,500 (approx. US$500) will fund the marketing campaign in 2 slum colonies.
Want to Fund this Project?
Visit BitGiving.com here and support the cause.
Looking for funding?
If you have a social project that's high on innovation and impact, but running low on financial fuel, do write in to Nidhi Singh at nidhi@csrlive.in with your proposal, and we'll feature it on FUND MY PROJECT.