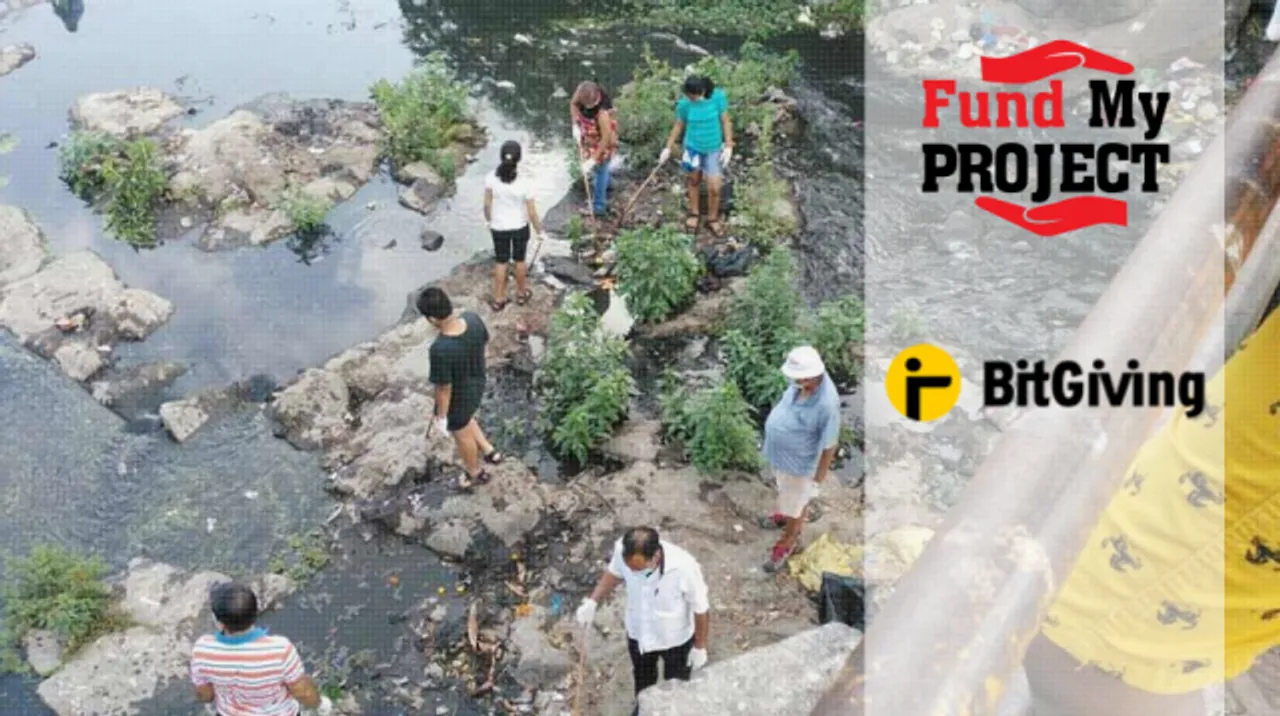 Here's how your CSR funding can help in organizing movements to rejuvenate rivers by striving to free them from encroachments & contribute non-polluted green environment.
This cause is featured on Fund My Project as part of
CSRlive.in
's collaboration with
BitGiving.com
Project by: M.A.D. Foundation
Funding Required: INR 3 Lacs
Category: Eligible CSR activity as per Companies Act 2013, Schedule VII
(iv) ensuring environmental sustainability, ecological balance, protection of flora and fauna, ...conservation of natural resources and maintaining quality of soil, air and water;
Here's what the folks at M.A.D. Foundation have to say about this project.
"One of the things people most liked about the city was the exhilarating walks by the river which flowed thru the city soothing the stretched nerves of every Mumbaikar." 
Over last 20 odd years, we in Mumbai have lost all the 4 rivers which were once flowing thru the city, soothing the nerves of every mumbaikar. Alas, we are left with the garbage heaps today where these rivers once flowed in all their glory.
Now the present generation relates to these once beautiful rivers of Mumbai as "Nallahs". They never knew that they are rivers... once they were clean, giving life to fishes, crocodiles and other marine animals.
Sadly, these rivers also bring:
Water-borne diseases,
They Breed Mosquitoes, flies and other insects and diseases associated with them – Like, Dengue, Malaria. In past few years, Dengue has taken many lives.
They stink. It has become difficult to breathe around these rivers.
They have turned into Sewer or Nallah's.
Mangroves have reduced by 70% (it is also due to government destructing mangroves for urban development)
These Rivers end up in Arabian sea. As a result we have black sea water at our beaches – Juhu Beach, Chowpatty, Marve, Versova. Gorai or Aksa… They are full of dirt, germs, sewage, etc.
Water scarcity is in crisis. "EITHER WE SAVE THEM OR PAY THE PRICE"
Our endeavor is to lead the movement which will seek to rejuvenate our rivers by striving to free them from encroachments, save remaining mangroves and contribute a non-polluted green environment.
We have very ambitious plans for the coming few months and cost will be incurred for conducting following activities:
We want to create awareness about our initiative through organizing a drawing competition in schools in Mumbai.
We want to organize an exhibition about the glory of the Mumbai river, which are today called "Nallas" and what we need to do to rejuvenate them. The task is huge, but it is very much possible if we citizens and government work together. The exhibition will be held to view 3D model of Dahisar River. This Model will provide details of various pollutents in different location along the River.

We plan to organize a mega march, this will be on the lines of RIVER MARCH
Our team has obtained permissions from the BMC to plant about 10,000 trees along the WEH from Dahisar to Bandra. We have initiated this activity and planted around 50+ trees in last few weeks. We need a lot of support to reach the number of 10,000 trees.
We will be conducting aggressive awareness campaigns over next one year organizing mega events.
RiverMarch is a People's movement working for the restoration, revival & rejuvenation of highly polluted  rivers of India, starting with rivers of Mumbai. Rivers are the lifeblood for the existence of human beings, flora & fauna.
We seek your active support, both monetary & by your participation,  in achieving our goal of restoring clean flowing rivers free of pollutants & full of biodiversity.
Want to Fund this Project?
Visit BitGiving.com here and support the cause.
Looking for funding?
If you have a social project that's high on innovation and impact, but running low on financial fuel, do write in to Nidhi Singh at nidhi@csrlive.in with your proposal, and we'll feature it on FUND MY PROJECT.