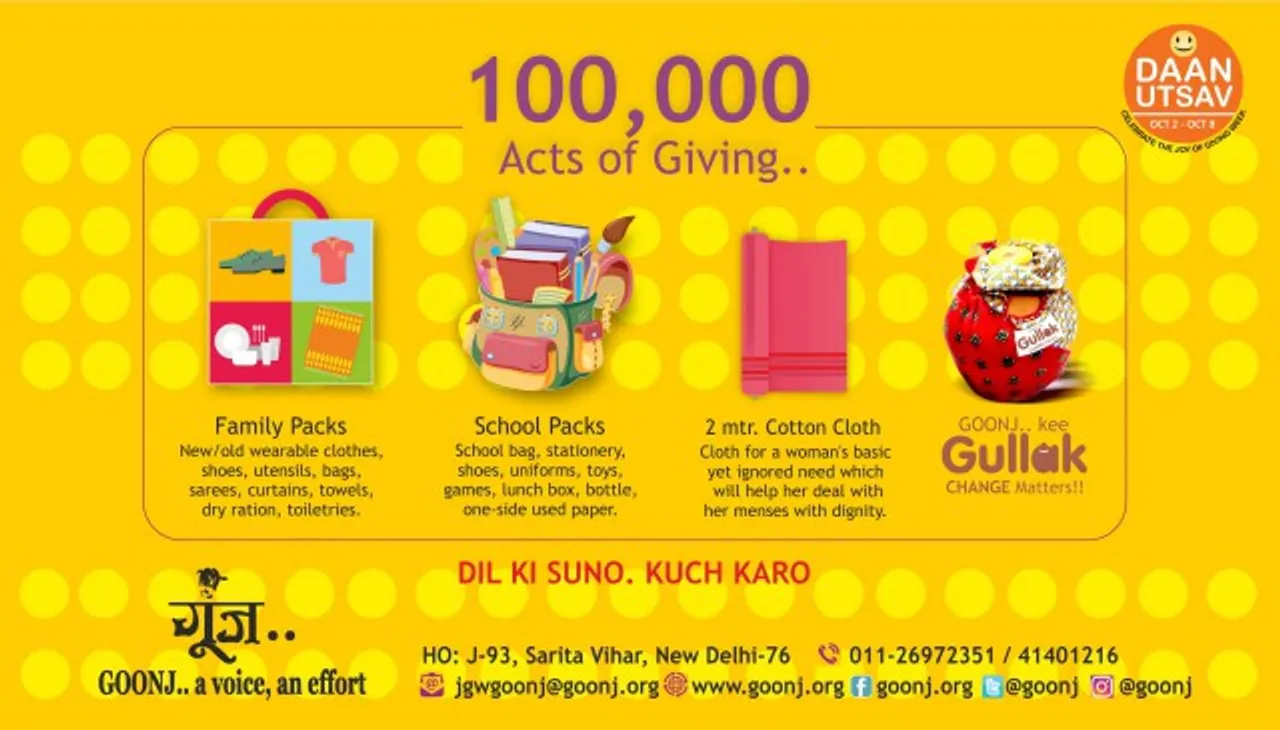 New Delhi: Goonj, the voluntary organization that channelises cloth and other material like utensils, footwear, school material, office equipments etc from cities as a powerful resource in the most far flung villages of India, has launched '100,000 Acts of Giving' campaign for the upcoming Joy of Giving week (now called Daan Utsav, Oct 2-8).
Goonj is motivating people all across urban India to look around in their own homes and create a pack of things to address needs of families in village India. The drive is divided into four segments: Family packs, School packs, 2 meter cloth and Goonj kee Gulak.
People can give their contributions in Goonj offices in 7 cities (Delhi, Mumbai, Hyderabad, Bangalore, Rishikesh, Kolkatta, Chennai) and in Public Collection Centers (PCC's) in the following cities, information for which is available here. In north, south, east, west and central India volunteers are starting the collection drive in the week of Daan Utsav will start from coming Sunday 2nd October in residential areas, schools, colleges etc.
The aim is to bring joy to village families through 100,000 units of family Packs (contributed  by urban India) - containing things a family needs, 100,000 school packs  for village school children, 100,000 city people giving 2 meter clean cotton cloth which will be used to prepare cloth pads for village women who badly need it during menses. (A pack of 10 MY Pads requires about 2.5 meters of cotton cloth. Goonj is asking 100,000 people in the cities to create a Goonj Kee Gullak, (the familiar piggy bank) for Goonj in empty boxes, bottle etc. (one can also collect a Gullak from nearest Goonj office) to collect their small change because for Goonj 'every penny matters.'  Once the Gullak fills up, bring it or make the equivalent monetary contribution to Goonj. "The idea is to motivate city people to actively participate in bringing about social change in the country by contributing in whatever way they can" explains Goonj's Founder Director, Anshu Gupta.
In rural India under Goonj's Cloth For Work initiative, people participate in more than 2000 developmental activities every year and receive these kind of Family Packs as reward for their labor while School Packs act as an incentive to motivate village children towards learning and positive behavioral changes under Goonj's School to School (S2S) initiative. Under Goonj's nationwide initiative 'Not Just a Piece of Cloth' Goonj makes 'My Pad', clean cloth sanitary pads and reaches them out to village women as a tool to make them more aware about menstrual health and hygiene and to get them to speak up about the taboos and challenges they face around it. The 2 meter cloth contribution means saving a woman from the monthly indignity of using sand, ash, rags etc in the absence of a piece of clean cloth in menstruation.