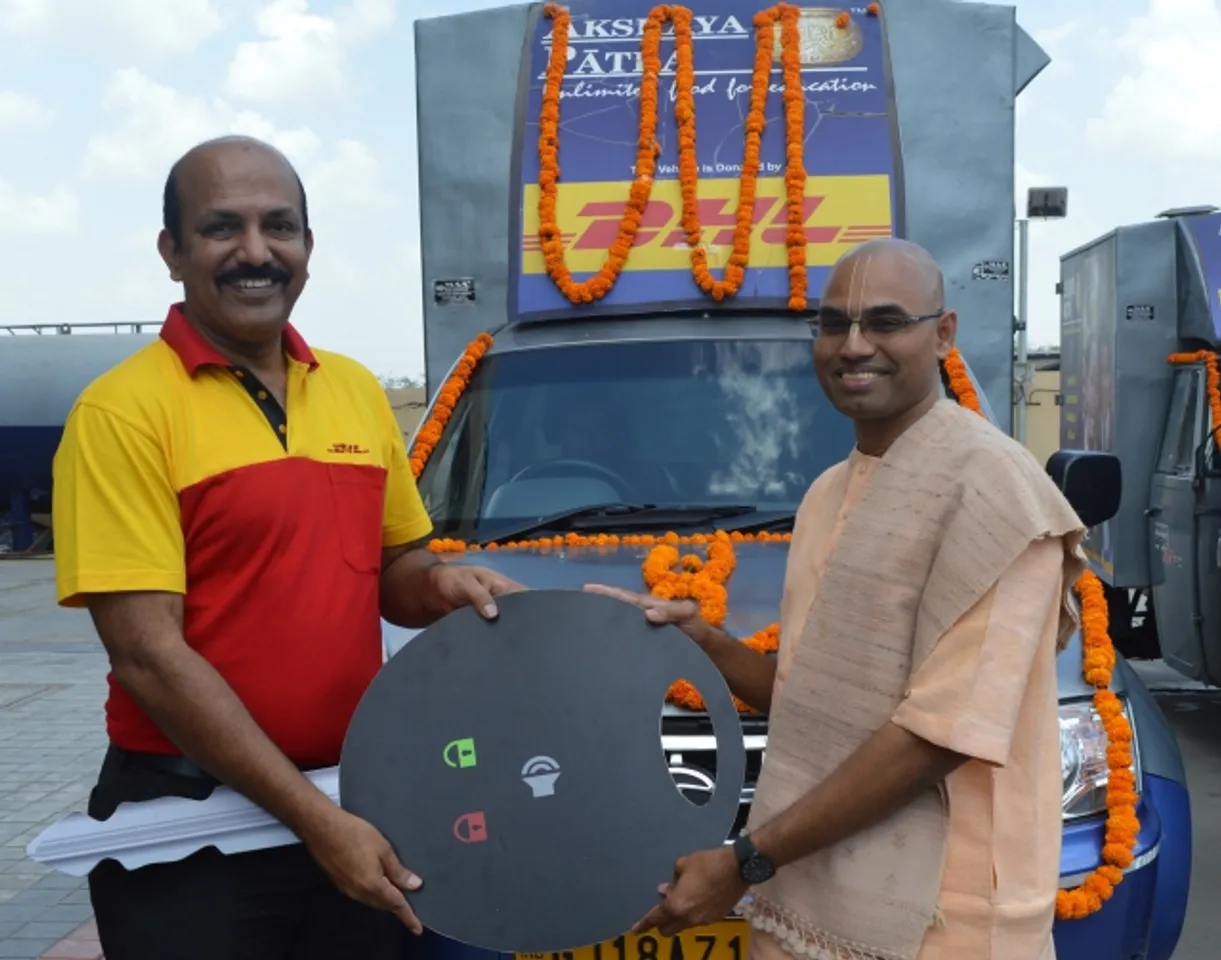 Ahmedabad (March 9, 2017): DHL Express has contributed five additional mid-day meal delivery vans to The Akshaya Patra Foundation's mid-day meal program in Gandhinagar and Surat, delivering wholesome hot meals to over 4,400 children across 32 schools in both regions. One vehicle will carry out meal deliveries to schools in Gandhinagar and the remaining four will cater to schools in Surat.
This adds to the existing fleet of five vans in Bengaluru and Jaipur, which DHL Express had contributed in 2015. With the new fleet, DHL Express supports 8,400 children across 65 schools in all four regions. The program, run by The Akshaya Patra Foundation, is the largest NGO-run school mid-day meal program that feeds over 1.6 million children across the length and breadth of India. Through this program, the Foundation works towards two critical goals: Zero Hunger and Quality Education. The delivery vans are customized to make certain that the meals prepared in the Akshaya Patra kitchen reach the schools without compromising on the quality of the food.
Commenting on the occasion, R. S. Subramanian, Senior Vice President & Country Manager, DHL Express India, said "As part of our Corporate Social Responsibility pillars – GoHelp and GoTeach, improving the education ecosystem for children is our priority. We are extremely glad to be a part of this wonderful initiative by Akshaya Patra to ensure that the children in India are not deprived of education due to hunger. Our efforts help in reaching over 8,400 children across four cities. The association only strengthens our commitment towards the cause that helps bring more and more children to schools."
The vehicles by DHL Express are equipped with sufficient insulation for heat retention and have a honeycomb structure to prevent spillage. This ensures that the meals reach the beneficiaries on time and in excellent condition.
DHL's association with Akshaya Patra started in 2013 with the launch of the 'Nourish India Dal by Dal' to raise contributions towards buying Dal for the mid-day meal programme. In two years, DHL has contributed to buy over 26 tons of Dal and the partnership continues to grow.