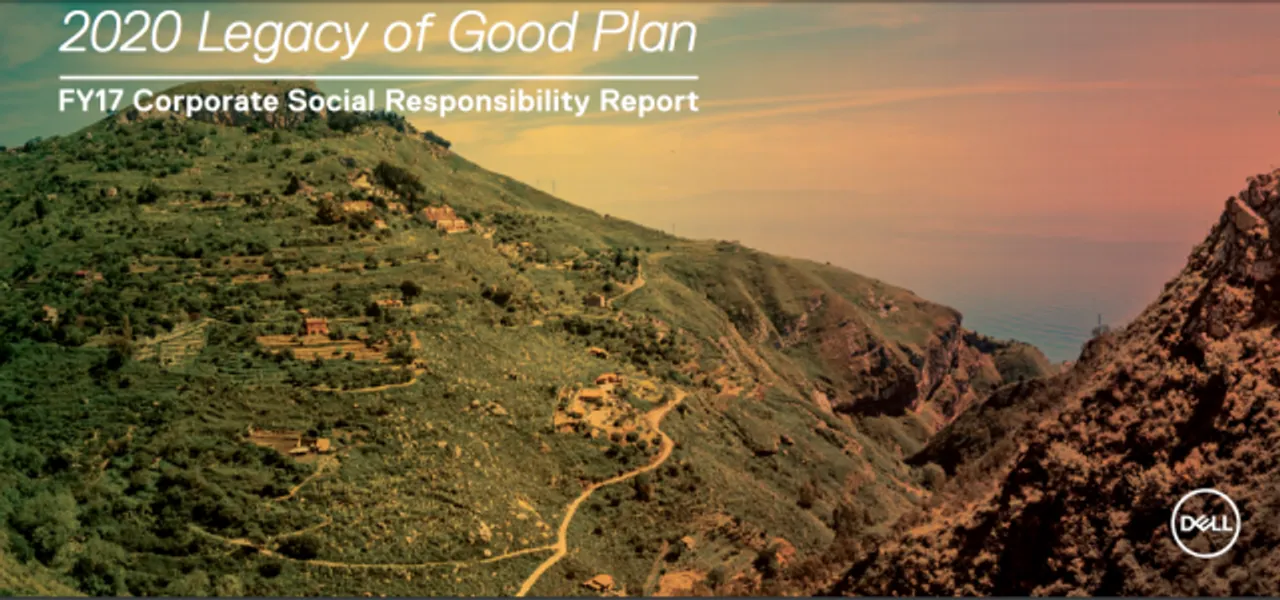 Dell Inc. reports the first 2020 Legacy of Good update that recognizes key CSR achievements for the combined company following Dell's merger with EMC1. The plan outlines Dell's long-term commitment to society, team members and the environment. As a result of the merger, the company has a broader technology portfolio, more engaged team members and greater resources to address the world's most pressing challenges. The report summarizes the efforts of Fiscal Year 2017 (Feb. 1, 2016 – Jan. 31, 2017).
"Bringing together Dell and EMC in September 2016 gave us an opportunity to reflect on our progress and establish a core set of commitments that represent the best of both companies," said Trisa Thompson, Chief Responsibility Officer at Dell. "We have a newfound energy as we think about the opportunity we have to put our combined portfolio, expertise and resources to good work. It's already encouraging tremendous innovation that will benefit our customers and our world."
Rajeev Kapoor, Vice President Finance and CSR Champion, Dell EMC India added: "The India region plays a significant role in contributing to the 2020 Legacy of Good goals, effectively using our capabilities to do good for society, community and our planet. In the context of the fast pace of change in the world, people are looking to work with companies that have a strong culture and strive to do good, because it ultimately enables businesses to be more resilient. Our customers and team in India see great value in the Legacy of Good Report, which demonstrates how they can deliver on a common vision to drive business success. We see some great examples that demonstrate how we can build on our strengths and use technology to make a positive impact."
The updated plan and goals reflect how Dell and EMC came together with a shared commitment to people and the planet. For example, the combined company has increased its investment in Science, Technology, Engineering & Mathematics (STEM) education for underserved youth. The company has also extended its partnership with the University of Technology Sydney (UTS) for the third year running to promote the importance of STEM through mentoring program and scholarships.<1>
To help cultivate an inclusive culture, Dell is extending its flexible work program to legacy EMC team members and offering more employee resource groups, connecting team members who share interests, lifestyles, sexual orientation, gender, ethnicity or background. And as a combined company, Dell achieved part of its American Business Act on Climate Pledge to plant 1 million trees to offset carbon emissions and restore natural habitats around the globe. Lastly, this year's report includes additional goals dedicated to driving transparency, accountability and continuous improvement throughout Dell's global supply chain.
The initial plan was developed during Dell's Fiscal Year 2014 (Feb. 1, 2013 – Jan. 31, 2014). Today's 2020 Legacy of Good update includes original goals, adjusted goals as well as new goals to reflect the opportunities, scale and expertise of our combined organization. Report highlights include:
Community
India team members contributed over 1,05,000 hours of volunteer time engaging with 1,175 non-profits working in the areas of education, environment sustainability, women empowerment, people with disabilities etc. In total, the Dell India team members have volunteered 4.5 Lakh hours of their time since 2013-14
Through their volunteering efforts, India team members raised over INR 2.5 crores worth of volunteer reward cards this year and deployed them for execution of projects such as distribution of education school kits, sponsorship of deserving girl children, installation of drinking water filters in government schools
Over 700 team members from the legacy Dell and EMC organizations in Bangalore assembled 209 wheelchairs as part of the global Day 1 (post-integration) community service activity in October 2016.  These wheelchairs were distributed through NGO partners - Association for People with Disability and Samarthanam Trust for the Disabled
Under the Dell Youth Learning program, the India team engaged with a broad spectrum of 13 non-profits to use Dell - technologies and expertise to improve learning outcomes in government schools, impart digital literacy skills, increase curiosity and foster innovation, develop life skills and provide environment and civics related education to underserved youth. With our support, these partners collectively reached out to 1.86 Lakh youth directly and 1.26 Lakh youth and community members indirectly
Dell has offered expertise and technology for 2.3 million underserved children directly and over 10 million people indirectly through strategic giving programs, reaching 59 % of Dell's direct impact goal and 84 percent of the indirect goal
People
Dell, globally, offers 14 different employee resource groups (ERGs) to help instill an inclusive culture. As of December 2016, 23 percent of team members are engaged in employee resource groups. Pride, Dell's ERG for lesbian, gay, bisexual and transgender team members and allies, is one of the fastest-growing ERGs. Much of that growth came through new chapters in Asia and Latin America, locations where identifying as LGBT is not always widely accepted
Dell further expanded its flexible work programs to Dell EMC team members, encouraging eligible employees to work where, how and when it is most productive for them. Dell's goal is to increase global participation to 50 percent by 2020
Dell continued to be recognized as an Employer of Choice, garnering awards in over 20 countries. In November 2016, Dell launched its first employee survey as a combined company, with positive results: 82 percent of team members said they felt inspired, exceeding the goal of 75 percent
More than 40 volunteers from Dell EMC in India mentored teams at the world's biggest hackathon, Smart India Hackathon 2017, organized by India's Ministry of Human Resources and Development. The event saw 32,000 students work on more than 600 problems provided by India's government, with first and second place going to teams mentored by Dell engineers
Through its MARC (Men Advocating Real Change) initiative, over 7000 managers in India have been involved to achieve equality in the workplace, help identify unconscious bias and promotes a more collaborative and inclusive leadership style. Dell is the first IT company to globally embrace MARC and was launched in India in June 2016
Environment
Dell exceeded the initial 2020 goal of using 50 million pounds of sustainable materials in its products and adjusted the goal to use 100 million pounds of recycled-content plastic and other sustainable materials
Dell began shipping the XPS 13 2-in-1 in packaging made from ocean-bound plastics and made a public commitment to increase annual usage 10x by 2025 as well as open source Dell's supply chain to encourage broad use of ocean plastics by other companies
Dell has recovered 1.8 billion pounds of electronics, 88 percent of the way toward its 2020 goal to recycle 2 billion pounds of used electronics by 2020
At the end of FY17, 97% of our Dell-operated facilities in India had at least one active sustainability initiative in one or more of our eligible categories: equipment or building upgrades, renewable energy use, on-site services, water conservation, and employee engagement
Use of Paper cups eliminated across all Dell India sites - 17 million paper cups avoided annually preventing 62 MT of paper waste
In a bid to reduce environmental footprint, Dell facilities form part of a new generation of smart, efficient building projects designed to meet LEED standards mandated by IGBC (Indian Green Building Council). All Dell India facilities implemented LED lights, pull chord switches for workstation lighting, and motion sensors for conference room lighting. Water conservation initiatives include aerators for water taps, waterless urinals, treated sewer water for WC flushing
| | |
| --- | --- |
| Facility | Certification |
| Bengaluru, Hyderabad | LEED Platinum |
| Noida, Coimbatore | LEED Gold |
More than 2000 team members across 5 cities in India have participated in various environment programs around World Earth Day as part of Planet ERG initiatives
Supply Chain
Dell expanded transparency into supply chain operations through the release of the semiannual Social and Environmental Responsibility (SER) Progress Report, which describes supply chain performance on Electronic Industry Citizenship Coalition (EICC) audits and other initiatives.
Dell also introduced new supply chain sub-goals focused on EICC audits, emissions reporting and water risk mitigation plans to help drive responsible actions amongst suppliers.
Source: