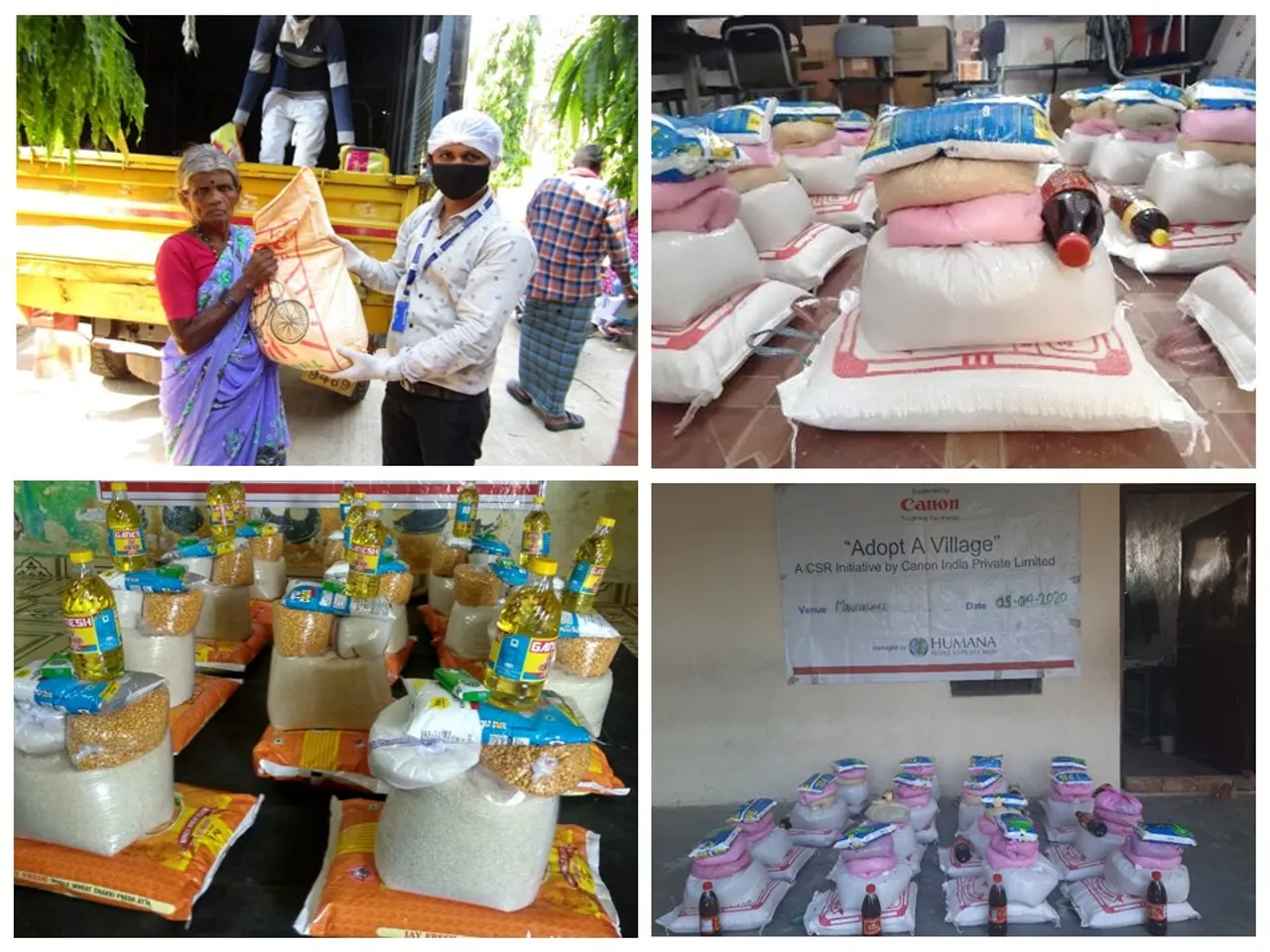 Pledging its support towards
India's
fight against corona-virus (COVID-19) pandemic, Canon India, one of the leaders in the imaging space, today announced plethora of initiatives to empower the people of its adopted villages and SOS village homes. To ensure that the community members are fully equipped, safe and motivated to win the COVID-19 battle, the company is providing essential food and sanitation items across the villages. Reaffirming its philosophy of 'Kyosei' which embodies the spirit of 'living and working together for the common good,' all the Canon employees PAN India are enthusiastically coming together and contributing to PM CARES Fund as well.
- Donates essential food and sanitation items to more than 12,500 beneficiaries - Canon employees across India come together and contribute to PM Cares Fund
As a part of the support, Canon India is providing 3000 food packets in its adopted villages. The food packets include essential ration items such as rice (5 kg), flour (5 kg), pulses (1 kg), salt (1 kg), sugar (1 kg) and cooking oil (1 kg). More than 12,000 people including the daily wagers and below poverty line (BPL) families in the villages are expected to be benefited from the concerted efforts of the company. Canon India's NGO partner - Humana People to People is supporting in the procurement of food packets, packaging and distribution within the villages. In addition to this, to provide sanitation support to children of SOS Children's Villages of Faridabad and Hyderabad, Canon India is distributing essential items such as sanitisers, liquid soap, cotton masks and other home cleansing products. Through this, the organisation aims to support 500 children in these SOS villages for a period of one month, covering the 21 days lock down period as well.
Speaking about this endeavour of Canon India, Mr. Kazutada Kobayashi, President & CEO of Canon India said, "With the COVID-19 pandemic, the entire world is going through challenging times indeed. In such an unprecedented and crucial situation, it is pertinent that we stand strong and show the best of humanity to combat this battle. With 'Kyosei' at the heart of our CSR operations, it has been our consistent endeavour to work together as one family and empower the less privileged ones. At Canon, we consider our adopted villages and SOS Village Family homes as our extended families. Hence, re-enforcing the commitment towards our adopted communities, we want to ensure their well-being and equip them to fight through these difficult times. Furthermore, it was also delighting to see Canon India employees come forward and contribute their bit towards the PM CARES fund, supporting the government's relief efforts. Keeping our spirits high, Canon India family will make all efforts to bring a positive difference and emerge as winners in this fight against the pandemic."
As a way forward, the organisation aims to continue supporting and safeguarding the communities in these villages in the times to come as well by supplying essential commodities.
Canon India's CSR endeavours are driven by their corporate philosophy of 'Kyosei,' which mean the 'spirit of living and working together for the common good,' which is considered foremost in the organisations way of working and day-to-day operations. However, their definition of the word is much broader and encompasses 'all people-regardless of their race, religion or culture, harmoniously living and working together for the common good.' Moving forward with this philosophy, they believe in standing in unison when it comes to their commitment to the community and strive to make a positive impact in the society and the environment. The organisation is involved in various community welfare programs aligned with their 4Es CSR policy implying Education, Eye Care, Environment and Empowerment, in an effort to build progressive self-reliant communities. Along with 'Adopt a Village' project, the organisation is also associated with SOS Children's Village across the country to encourage and support the overall development of children in these villages.
Source: PR_NW