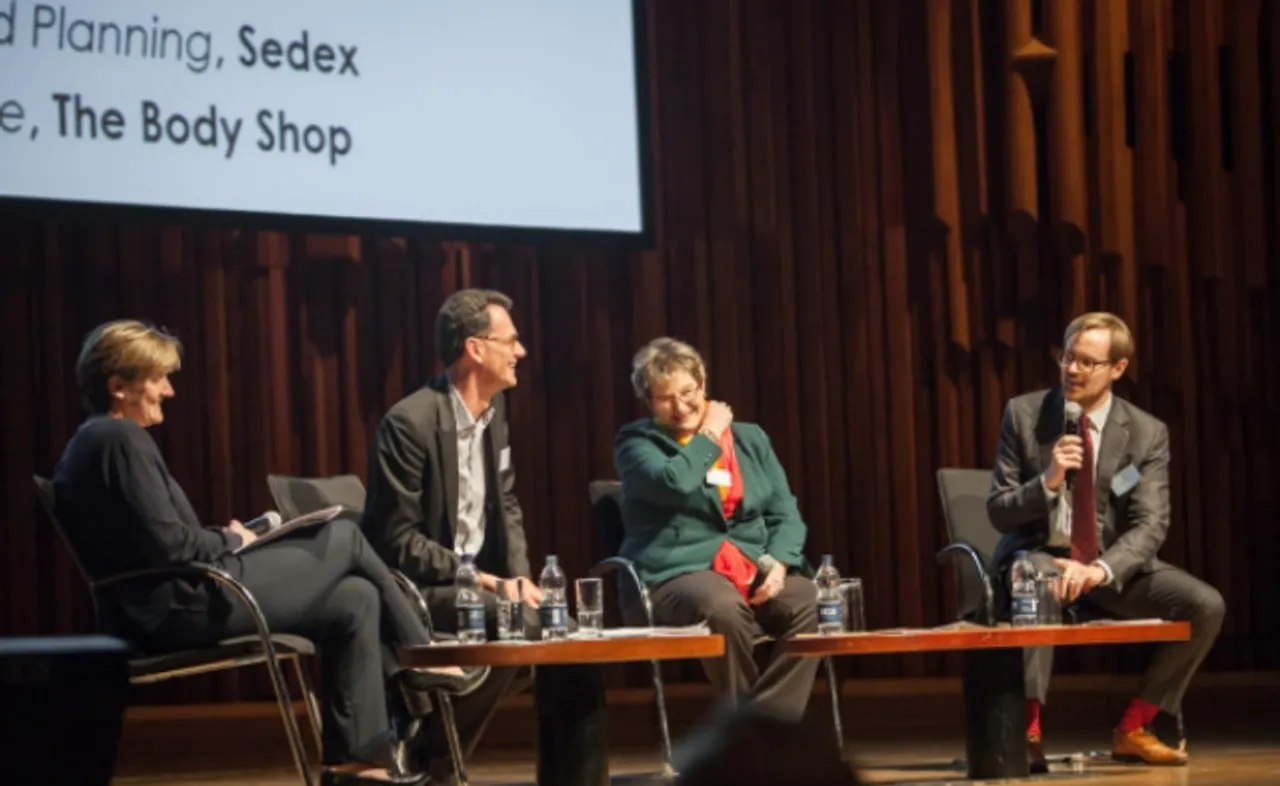 "Inputs are the resources a company puts in; outputs are what happens as a result and the impact is what actually changes for society." This quote by Richard Hardyment kick-started the social impact panel at the Sedex Conference 2016 with Richard Boele, Partner at KPMG Banarra; Elaine Cohen, Founder of Beyond Business; Tom Smith, (now former) Director of strategy and planning at Sedex; and Mary Teakle, Head of Ethical Trade at The Body Shop. And what better way to set the standard for the discussion that was held?
Here are seven practical takeaways from the session on how to simplify measuring social impact in your supply chain:
1/ Going through the process of materiality & determining your primary stakeholder key purpose
Going through the process of materiality enables companies to link to the things that matter most to stakeholders. "Organisations do need to engage with their stakeholders, to gain an understanding of their social impact, using the input of stakeholders to prioritise the most important ones," said Cohen. This is why deciding which stakeholder is first is crucial. "When you decide who you are trying to change a life for or improve things for, as your primary focus you can start setting up a way of measuring that," commented Boele.
2/ Focusing on the outcomes where the most significant impacts are taking place
According to Cohen, both "high resolution" and "low resolution" approaches can help determine where the most significant impacts are taking place. The "high resolution" approach means going right through a level of detail and investing mass resources. An example of this is the environmental profit and loss type of approach. The "low resolution" approach consists of, with the help of your stakeholders, identifying where your key impacts are and picking some core metrics that are fairly easy to understand as part of your core business, to measure and track those.
3/ Selecting the appropriate metrics
Teakle added a word of caution around choosing metrics and emphasised the importance of embedding the social impact the company is trying to achieve in the business across all departments. And Cohen commented that: "most sustainability reports – an account of the social impacts of a company on all of its stakeholders – today do not get to the impact bit, as they tend to describe what the organisation's key activities are." Using the "low resolution" approach will actually help companies spend more time improving their impacts and less time counting them.
4/ Making sense of complexity to scale your impacts
"A lot of social impact is about building it into the way you do business, as opposed to doing it as an additional project you need to manage," defended Cohen. "As any social impact a company has sits within a context, simplification at the cost of ignoring the complexity within which the company operates will lead to getting it wrong." Companies must find a simple way to make sense of complexity. Boele shared an example to illustrate this, by being able to clearly articulate a causal relationship between what was done in the supply chain and what the outcome for workers was.
5/ Collaborating to get things done effectively
Cohen described the Sustainable Development Goals as one of the most significant collaborative efforts that we will be seeing over the next few years at least. She added that they will provide "the kind of momentum that is going to start to drive even more partnerships to achieve those goals." In addition to this favourable context, looking at other disciplines, borrowing what is done and adapting to a specific context can help save time – not reinventing the wheel but getting things done effectively.
6/ Choosing the most appropriate tool  
There are many tools to measure social impact in a supply chain context, such as social return on investment, and impact investing. "It is important to choose the tool that is not more complex than what you need," confirmed Cohen. "In many cases a company can do with much less and get a 99 percent result, which is often sufficient to make decisions in business." Using what is around is good, as long as it is going to add value and not take you away from the real work by doing too much number crunching.
7/ Making preferential decisions around suppliers
"Making preferential decisions around suppliers who are able to consistently demonstrate greater ethical performance…becomes an intention of change with real business value and social outcome," said Teakle. "Without being naive about the price pressures in the supply chain that cause unsustainable behaviour and human rights abuses, typically companies that are investing in doing business in a sustainable way also get the benefit that can be quantified in a financial way sooner or later," concluded Cohen.
Watch the "Simplifying social impact" discussion at Sedex Conference 2016 here:
Watch an interview with Elaine Cohen from Beyond Business here:
Sedex
is a global non-profit membership organisation making it simpler to do business that's good for everyone. It is home to the world's largest collaborative platform for sharing data on supply chains, used by more than 38,000 members in over 150 countries. For over ten years Sedex has been developing technology and partnerships that enable many of the world's leading brands, and suppliers across the world, to monitor and report on responsible practice. Sedex also convenes the group of auditors who oversee SMETA, the globally-recognised audit procedure used by thousands to check on a broad range of indicators for responsible business.